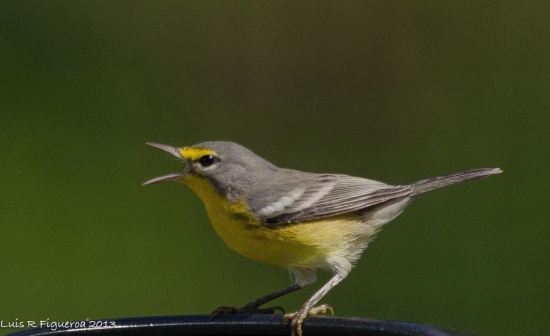 Setophaga adelaidae
Dendroica adelaidae
Identification
Bluish-gray upperparts with two white wing-bars. Underside including throat yellow (except undertail coverts and abdomen, which are white); face shows a yellow eye-brow but a white sub-ocular crescent bordered in black. Bill dark but possibly with flesh-colored base, and with flesh-colored legs.
Similar Species
St. Lucia Warbler (not overlapping in range) is the most similar species. Looks similar to a female Northern Parula, but lacks the yellowish-green patch on its back and has a yellow eyebrow stripe. Other similar species are possible in migration.
Distribution
Found entirely in Puerto Rico including Vieques Island.
Taxonomy
St. Lucia Warbler and Barbuda Warbler were previously thought to be conspecific with Adelaide's warbler.
Formerly placed in genus Dendroica.
Habitat
Dry coastal scrublands and, to a lesser extent, moist lowland forests.
Behaviour
Breeding
They nest at heights of 1 to 7 m and 2-4 white, brown spotted eggs are laid.
Diet
The diet includes insects.
References
Clements, J. F., T. S. Schulenberg, M. J. Iliff, S. M. Billerman, T. A. Fredericks, B. L. Sullivan, and C. L. Wood. 2019. The eBird/Clements Checklist of Birds of the World: v2019. Downloaded from http://www.birds.cornell.edu/clementschecklist/download/
Raffaele et al. 1998. Birds of the West Indies. Christopher Helm, London. ISBN 0713649054
Recommended Citation
External Links