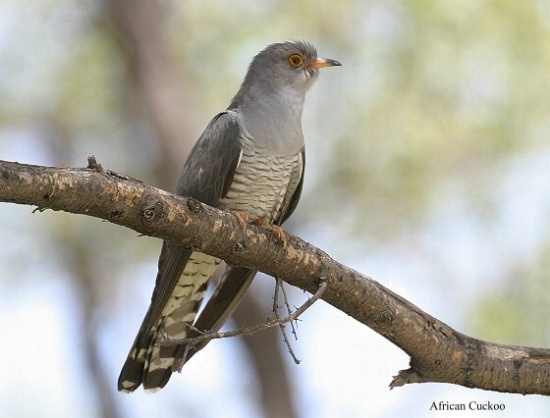 Cuculus gularis
Identification
Length 32-34 cm
Similar to the Common Cuckoo but has more yellow at the base of the bill, the outer tail is barred (rather than spotted), and the vent is more boldly barred.
Distribution
Widespread throughout sub-Saharan Africa
Western Africa: Mauritania, The Gambia, Guinea-Bissau, Guinea, Mali, Sierra Leone, Liberia, Ivory Coast, Burkina Faso, Ghana, Togo, Benin, Nigeria, Niger, Chad, Cameroon, Central African Republic, Equatorial Guinea, Gabon, Congo, Angola
Eastern Africa: Sudan, Eritrea, Ethiopia, Somalia, Kenya, Uganda, Rwanda, Burundi, Tanzania, Zambia, Mozambique, Malawi
Southern Africa: Namibia, Botswana, Zimbabwe, South Africa, KwaZulu-Natal, Swaziland
Taxonomy
Monotypic.
Habitat
Open woodlands, savanna, and wooded ecoptopes in more arid areas (such as tall riverine woodlands in the Kalahari).
Behaviour
Poorly known. Forages in trees and shrubs and on the ground; mainly eats caterpillars.
Vocalisation
Similar to that of the African Hoopoe; oo-oo.
Breeding
A brood parasite; hosts are Fork-tailed Drongo and Yellow-billed Shrike.
References
Clements, JF. 2008. The Clements Checklist of Birds of the World. 6th ed., with updates to December 2008. Ithaca: Cornell Univ. Press. ISBN 978-0801445019.
Hockey, PAR, WRJ Dean, and PG Ryan, eds. 2005. Roberts' Birds of Southern Africa. 7th ed. Cape Town: John Voelcker Bird Book Fund. ISBN 978-0620340533
Sinclair, I and P Ryan. 2003. Birds of Africa South of the Sahara. Princeton: Princeton Univ. Press. ISBN 978-0691118154
Avibase
Recommended Citation
External Links