Alternative name: Blue-billed Firefinch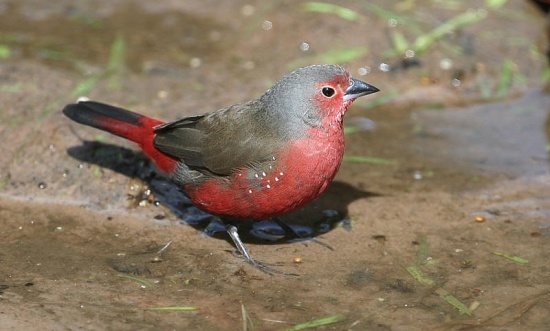 Lagonosticta rubricata
Identification
This is a small, wary but brightly coloured ground-feeding bird. It is also known as the Blue-billed Firefinch because of its bill colour.
Distribution
Africa south of the Sahara
Western Africa: Senegambia, Senegal, Guinea-Bissau, Guinea, Mali, Sierra Leone, Liberia, Ivory Coast, Ghana, Togo, Benin, Nigeria, Cameroon, Central African Republic, Equatorial Guinea, Gabon, Congo, Angola
Eastern Africa: Sudan, Ethiopia, Kenya, Uganda, Rwanda, Burundi, Tanzania, Zambia, Mozambique, Malawi
Southern Africa: Zimbabwe, South Africa, KwaZulu-Natal, Swaziland
Taxonomy
Subspecies (Fry et al, 2004):
Habitat
Bush and tall grass. Thickets in thornveld, riverine scrub, forest edges and suburbia. In more moist habitats than most firefinches.
Behaviour
Feeds on small seeds and small insects on the ground.
References
Fry H, Keith S,Woodcook M & Willis I. 2004. Birds of Africa Vol VII: Sparrows to Buntings. Princeton University Press. ISBN 0713665319
Avibase
Recommended Citation
External Links