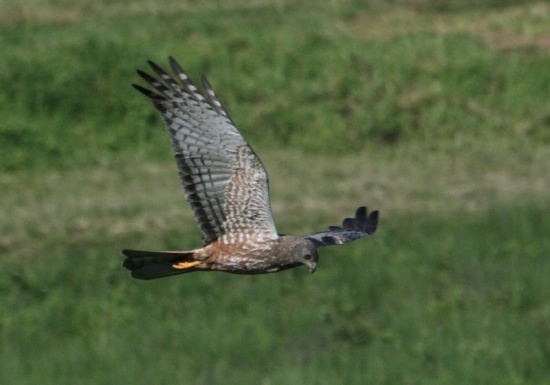 Circus ranivorus
Identification
Length 44-49 cm, mass 350-690 g; females larger than males.
Adult: Feathers on crown and back are dark brown, edged rufous, and the rump is rufous. The tail is barred brown and grey (male) or dark and pale brown (female), and the undersides of the wings are barred buff and dark brown (male has greyer secondaries). Under parts brown and rufous, streaked white. Legs, feet, eyes and cere yellow and bill greyish.
Juvenile: Dark brown with off-white forehead, nape, shoulders and breast band. Eyes dark brown.
Distribution
Africa: From South Africa, north to the Democratic Republic of Congo, Uganda and Kenya.
Taxonomy
Circus ranivorus is monotypic.
African Marsh Harrier has in the past been treated as a subspecies of Western Marsh Harrier
Habitat
Inland and coastal wetlands and adjacent grasslands, croplands and fynbos.
Behaviour
Usually solitary.
Flight
Quarters over grassland, croplands or fynbos, flying 1-3 m above the vegetation.
Diet
Prey is mainly small mammals; also takes birds, frogs and fish.
Breeding
Monogamous and territorial. The nest is built with grass and reeds, usually in reeds, near or over water. Two to five eggs are laid.
References
Hockey PAR, Dean WRJ & Ryan PG (eds) 2005. Robert's Birds of Southern Africa, 7th edition. John Voelcker Bird Book Fund, Cape Town, South Africa. ISBN 0620340533
External Links