Alternative names: African Open-bill, African Open-billed Stork
Anastomus lamelligerus
Identification
60cm. Black head, brown eye and bill, grey and black throat, black upperparts and long, black legs. Shiny wings.
Visible gap between mandibles
Distribution
Africa south of the Sahara as well as Madagascar
Western Africa: Senegambia, Senegal, Guinea, Mali, Sierra Leone, Liberia, Ivory Coast, Burkina Faso, Ghana, Togo, Benin, Nigeria, Niger, Chad, Cameroon, Central African Republic, Equatorial Guinea, Gabon, Congo, Angola
Eastern Africa: Sudan, Eritrea, Ethiopia, Somalia, Kenya, Uganda, Rwanda, Burundi, Tanzania, Zanzibar, Zambia, Mozambique, Malawi
Southern Africa: Namibia, Botswana, Zimbabwe, South Africa, KwaZulu-Natal, Swaziland
African Islands: Madagascar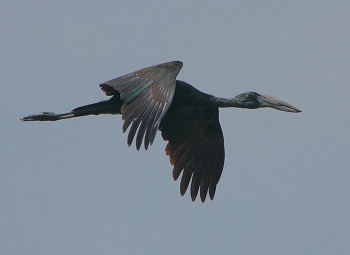 Taxonomy
Polytypic. Consists of two subspecies.[1]
Habitat
This bird is principally associated with extensive stretches of fresh water, although it is known to wander into drier regions. It is typically a bird of marshes, swamps and lakes where it feeds primarily on molluscs.
Behaviour
The bill is specialised for feeding on molluscs and bivalves. The lower mandible is used to slice through the muscle holding either the snail in its shell or the 2 halves of a bivalve shell. The upper mandible is used to steady the prey while the extraction is performed. The bird uses the sharp tip of its lower mandible to get past the protective plate which snails use to seal themselves into their shell.
References
Clements, JF. 2008. The Clements Checklist of Birds of the World. 6th ed., with updates to December 2008. Ithaca: Cornell Univ. Press. ISBN 978-0801445019.
Avibase
Recommended Citation
External Links