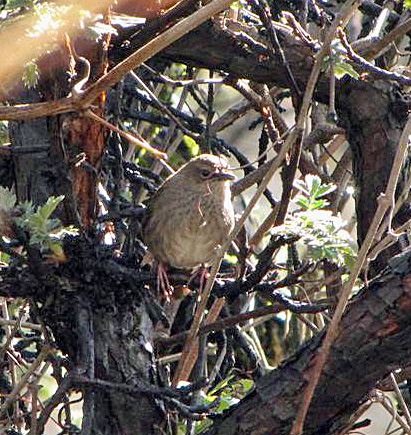 Alternative names: African Scrub-Warbler, Barratt's Scrub Warbler
Identification
Length 15 cm, mass 15 g
Adult: Brown above; rump and tail with a reddish tinge. The eyebrow is paler, but indistinct. Chin and throat off-white, and breast greyish olive; throat and breast with brown streaks. Belly off-white and flanks and undertail coverts brownish olive. Bill black and eyes brown.
Because this bird is so difficult to see, identification and location is usually dependant on knowing its calls. [Calls]
Similar Species
The Knysna Warbler is similar, but has a shorter tail and is darker below with less obvious streaking. The song of the Knysna Scrub Warbler is also similar to that of the African Scrub Warbler, but starts with longer and louder notes.
Distribution
Eastern South Africa, Lesotho, eastern highlands of Zimbabwe.
Taxonomy
There are four subspecies, based on differences in shade of plumage colour, and size.[1]
B. b. godfreyi (wilsoni):
Habitat
Dense scrub (including bramble, bracken and heath) at forest edges and along streams.
Behaviour
A skulker, usually on or near the ground, in dense cover; habits are therefore poorly known. Eats insects.
Breeding
Monogamous and territorial. Two eggs are laid in a cup of plant material built on or near the ground.
Vocalisation
The song begins with high-pitched "tik, tik, tik ...." notes speeding up to a lower-pitched trill.
The alarm call is a soft "chrr-chrr".
References
Clements, JF. 2008. The Clements Checklist of Birds of the World. 6th ed., with updates to December 2008. Ithaca: Cornell Univ. Press. ISBN 978-0801445019.
Hockey PAR, Dean WRJ & Ryan PG (eds) 2005. Robert's Birds of Southern Africa, 7th edition. John Voelcker Bird Book Fund, Cape Town, South Africa. ISBN 0620340533
Recommended Citation
External Links
GSearch checked for 2020 platform.