Euodice cantans
Lonchura cantans
Identification
11 cm (4¼ in)
This is a small drab finch-like bird with grey-brown upperparts, pale buff underparts and a dark, somewhat pointed tail; the most obvious feature being the large silver bill!
Distribution
A rather rare Estrildid finch found in sub-Saharan Africa north of the equator.

Northern Africa: Egypt
Western Africa: Mauritania, Senegambia, Senegal, The Gambia, Guinea-Bissau, Guinea, Mali, Sierra Leone, Ivory Coast, Burkina Faso, Ghana, Togo, Benin, Nigeria, Niger, Chad, Cameroon, Central African Republic, Equatorial Guinea
Eastern Africa: Sudan, Eritrea, Ethiopia, Djibouti, Somalia, Kenya, Uganda, Tanzania
Middle East: Arabian Peninsula, Saudi Arabia, Yemen, Oman, Qatar, Bahrain

Common in dry habitats in the Hawaiian Islands (introduced).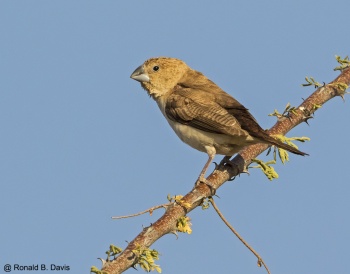 Taxonomy
Some authorities place this species in genus Lonchura. [1]
Subspecies
Two subspecies are recognized[1]:
Habitat
Savanna, arid landscape with thorn bush, and grasslands with acacias or sparse grassland. Found from 250-1500 m. Often near settlement
Behaviour
Very gregarious, often seen cuddled up together on branches.
Diet
They generally feed on the ground. Their diet consists mostly of grass seeds and seeds from weeds and small shrubs. Also insects such as aphids are eaten.
Breeding
The nest is a round bundle of grasses, lined with soft fibres and sometimes feathers, placed in a thick bush or hedge. 3-6 oval, smooth white eggs are laid and incubated by both parents for 11-13 days. The young fledge after 21 days.
References
Clements, J. F., T. S. Schulenberg, M. J. Iliff, D. Roberson, T. A. Fredericks, B. L. Sullivan, and C. L. Wood. 2015. The eBird/Clements checklist of birds of the world: v2015, with updates to August 2015. Downloaded from http://www.birds.cornell.edu/clementschecklist/download/
Avibase
Handbook of the Birds of the World Alive (retrieved January 2016)
Recommended Citation
External Links