Platalea alba
Identification
90–91 cm (35½-35¾ in), mass 1.45-1.89 kg.
Breeding Adult:
Bill is spoon-shaped and blue-grey above, with a red edge
Facial skin is red grading to yellow on the chin and throat
Plumage is white
Eyes are pale blue
Legs and feet are red.
Distribution
Sub-Saharan Africa
Western Africa: Mauritania, Senegambia, Senegal, Guinea-Bissau, Guinea, Mali, Sierra Leone, Liberia, Ivory Coast, Burkina Faso, Togo, Benin, Nigeria, Niger, Chad, Cameroon, Central African Republic, Equatorial Guinea, Gabon, Congo, Angola
Eastern Africa: Sudan, Eritrea, Ethiopia, Djibouti, Somalia, Kenya, Uganda, Rwanda, Burundi, Tanzania, Zambia, Mozambique, Malawi
Southern Africa: Namibia, Botswana, Zimbabwe, South Africa, KwaZulu-Natal, Lesotho, Swaziland
African Islands: Madagascar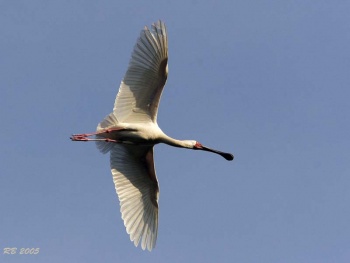 Taxonomy
This is a monotypic species[1].
Habitat
Inland lakes, floodplains, reservoirs and marshes. Occasionally seen in coastal lagoons
Behaviour
Diet
The diet consists of various fish, frogs and other water creatures.
Breeding
A platform nest is built from sticks or reeds and lined with leaves. It is usually in tree near water, but may be on the ground among rocks, or on a cliff. The clutch consists of three to five spotted red, brown or blue eggs which is incubated by both parents for 21-29 days. The young fledge after 20-30 days.
References
Clements, J. F., T. S. Schulenberg, M. J. Iliff, D. Roberson, T. A. Fredericks, B. L. Sullivan, and C. L. Wood. 2016. The eBird/Clements checklist of birds of the world: v2016, with updates to August 2016. Downloaded from http://www.birds.cornell.edu/clementschecklist/download/
Avibase
Honolulu Zoo
Handbook of the Birds of the World Alive (retrieved September 2016)
Recommended Citation
External Links