Alternative names: Wattled Lapwing; Senegal Wattled Plover; Wattled Plover
Vanellus senegallus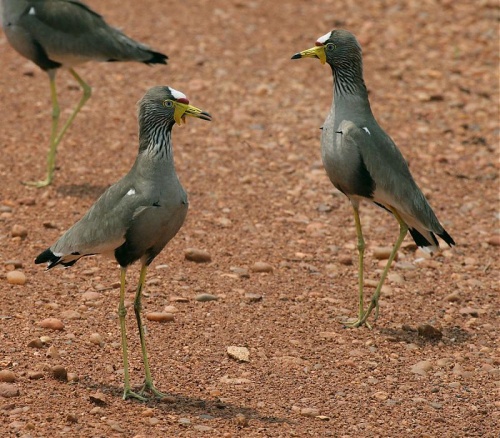 Identification
Length 35 cm, mass 160-293 g; the largest African lapwing.
Brown, black crown, white forehead and large yellow facial wattles, upperwings have black flight feathers and brown coverts separated by a white bar, underwings are white with black flight feathers. White tail, tipped black, and the long legs are yellow.
Distribution
Sub-Saharan Africa.
Taxonomy
Vanellus senegallus has three subspecies:1
Habitat
Marshes, ponds, rivers and streams, short grassland, savanna, croplands, cultivated pastures and burnt grassland.
Behaviour
Usually singly, in pairs, or in small groups; sometimes in larger flocks when not breeding. Forages while walking. The diet includes grasshoppers, locusts, beetles, crickets, termites, aquatic insects, worms, coarse grass leaves and grass seeds.
The nest is a shallow depression in short grass or bare ground, but always near water. Two to four eggs are laid, and incubated for 28-32 days by both sexes. Chicks leave the nest the day of hatching.
References
Clements JF. 2007. The Clements Checklist of Birds of the World. 6th ed., with updates to October 2008. Cornell University Press. ISBN 9780801445019
Hockey PAR, Dean WRJ & Ryan PG (eds) 2005. Robert's Birds of Southern Africa, 7th edition. John Voelcker Bird Book Fund, Cape Town, South Africa. ISBN 0620340533
External Links