Alternative names: Yellow Flycatcher Warbler, Dark-capped Yellow Warbler.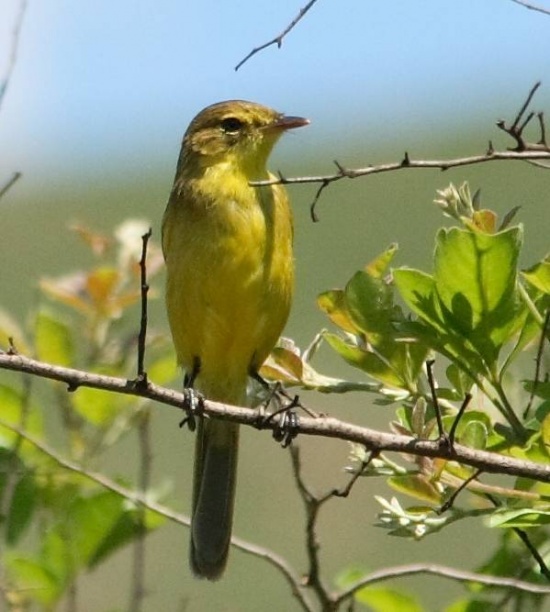 Iduna natalensis
Chloropeta natalensis
Identification
Length 14-15 cm, mass 12 g. Upperparts olive-brown; tail and flight feathers darker. Underparts bright yellow. Bill dark, eyes brown, legs and feet slate-grey.
Sexes similar.
Distribution
Sub-Saharan Africa: Cameroon to Ethiopia and eastern South Africa.
Taxonomy
There are three or four subspecies; There is variation in the plumage coloration (different shades of brown and yellow).
Subspecies[1]
Formerly placed in genus Chloropeta
Habitat
Rank vegetation along watercourses and forest edges and near wetlands.
Behaviour
Usually found singly or in pairs, these birds are inconspicuous unless singing.
Diet
They forage for invertebrates low down in the vegetation.
Breeding
The nest is a cup of grass blades made within 2 m of the ground; 2-3 eggs are laid.
Vocalisation
Song rich and distinctive.
References
Clements, J. F., T. S. Schulenberg, M. J. Iliff, D. Roberson, T. A. Fredericks, B. L. Sullivan, and C. L. Wood. 2017. The eBird/Clements checklist of birds of the world: v2017, with updates to August 2017. Downloaded from http://www.birds.cornell.edu/clementschecklist/download/
Hockey PAR, Dean WRJ & Ryan PG (eds) 2005. Robert's Birds of Southern Africa, 7th edition. Cape Town: John Voelcker Bird Book Fund. ISBN 0620340533
Lepage D. 2007. Avibase. Search for "Chloropeta natalensis" downloaded 29 October 2007.
Recommended Citation
External Links