Alternative name: Northern Black Korhaan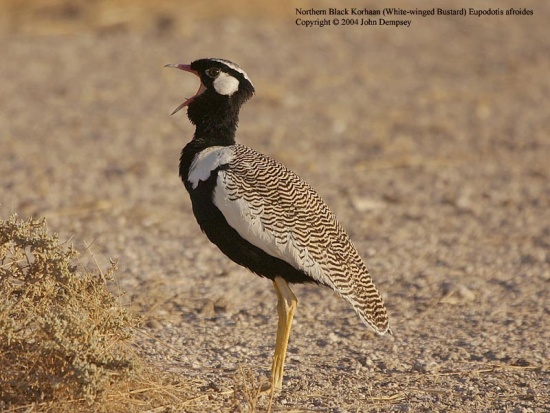 Afrotis afraoides
Eupodotis afraoides
Identification
Length 50 cm, mass 500-952 g, males slightly larger than females.
Adult male: Head black with white cheek patches and brown crown. Neck and under parts black; the white collar on the mantle extends to the sides of the upper breast. The back is barred black and brown. The folded wing shows a broad white lower edge; otherwise barred black and brown. In flight, the primaries show white bases. The bill is red with a grey tip; the eyes are brown with a red eye-ring; and the legs are yellow.
Adult female: Similar to the adult male, but with a brown head, neck and breast (crown and neck barred black), and without the wite mantle collar.
Similar species
The Black Bustard is slightly larger, has all-black primaries, and black bars on upper parts are broader; the Red-crested Bustard has white chevrons on the upper parts, duller (off-white to grey-green) legs, and lacks white on the primaries; the male Black-bellied Bustard has longer neck and legs, a black line down the front of the neck, paler legs, and more white on the wing in flight.
Distribution
Namibia, Botswana, South African interior and western Lesotho.
Taxonomy
Formerly considered conspecific within Black Bustard (E. afra). Separated on the basis of differences in genetics, voice and plumage.1,2
Afrotis vs. Eupodotis
Some authorities (Clements 2010) place Black Bustard (afra) and White-quilled Bustard (afraoides) in the genus Eupodotis. However, Dickinson (2003) and Gill & Donsker (2010) place these two taxa in Afrotis.
Subspecies3
NW Namibia and n Botswana
Palest upper parts of all races
S and central Namibia, central Botswana
Paler above than afraoides
SE Botswana to ne South Africa and western Lesotho
Habitat
Mainly grassland (with perennial grasses 0.5-1.0 m tall) with or without scattered trees. Also cultivated lands and pastures.
Behaviour
Diet
Forages close to the ground while walking; eats invertebrates, small reptiles, seeds and fruit.
Breeding
Polygynous; both males and females defends their own territories against others of their own sex. One to three eggs are laid on the ground year-round, but mainly September to March. The female incubates the eggs and cares for the young.
References
Crowe T.M., M.F. Essop, D.G. Allan, R.K. Brooke & J. Komen. 1994. "Overlooked units of comparative and conservation biology: a case study of a small African bustard, the Black Korhaan, Eupodotis afra." The Ibis. (136) 166-75.
Hockey P.A.R., W.R.J. Dean & P.G. Ryan (eds.). 2005. Roberts Birds of Southern Africa. 7th ed. Cape Town: John Voelcker Bird Book Fund. ISBN 0620340533
Clements, James F. 2007. The Clements Checklist of Birds of the World. 6th ed., with updates to October 2008. Ithaca: Cornell University Press. ISBN 9780801445019
External Links