Alternative name: Cape Verde Swift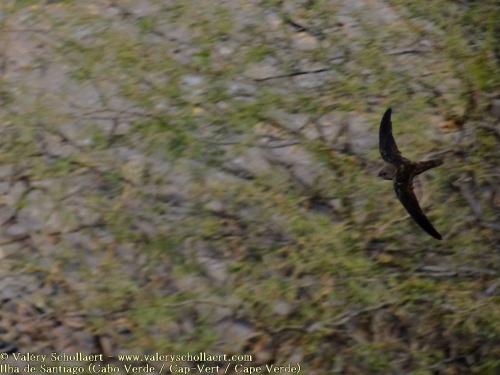 Apus alexandri
Identification
13 cm

Dark grey-brown
Large pale throat-patch
Shallow fork to the tail.
Distribution
Endemic to the Cape Verde Islands.
Occurs on all islands except Santa Luzia but may not breed on all of them. Breeding suspected on Sao Nicolau, Santo Antao, Brava, Fogo and Santiago.
Taxonomy
This is a monotypic species[1].
Habitat
Gullies and along cliffs and shorelines.
Behaviour
Diet
The diet includes insects.
Breeding
It builds its saucer shaped nest from grass and feathers, and it is placed in a cliff, in a cave or in the roof of a building. 2 white eggs are laid.
Vocalisation
It has a high-pitched, screaming call with a buzzing quality.
References
Clements, JF. 2011. The Clements Checklist of Birds of the World. 6th ed., with updates to August 2011. Ithaca: Cornell Univ. Press. ISBN 978-0801445019. Spreadsheet available at http://www.birds.cornell.edu/clementschecklist/downloadable-clements-checklist
Wikipedia
Recommended Citation
External Links
GSearch checked for 2020 platform.