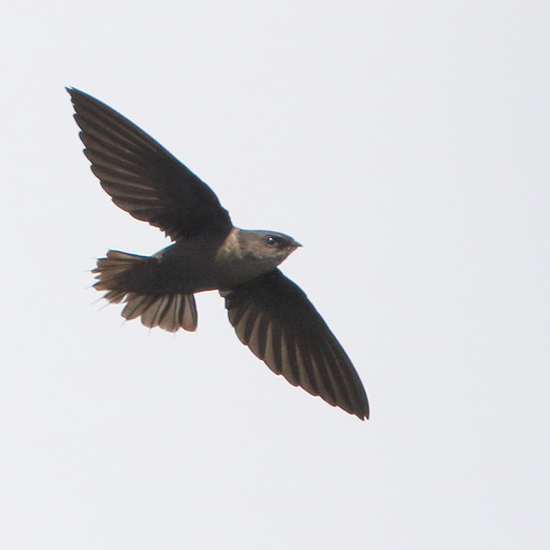 Includes Amazonian Swift (AKA. Mato Grosso Swift)
Chaetura chapmani
Identification
13–14 cm (5-5½ in). Darker and more heavily glossed than most other Chaetura Swifts.
Short square tail
Protruding head
Distinctive wing shape with hooked outer wing and bulging midwing cutting in at body
Glossy black upperparts with somewhat paler grey rump and uppertail-coverts
Uniform dark brown underparts
Similar species
Larger than Vaux's Swift and with slightly more contrast between rump and saddle and darker below (especially on throat), smaller than Chimney Swift and shows more contrast on upperparts and has a longer tail and is paler below than Short-tailed Swift
Distribution
Found from Panama south to Colombia, Venezuela, the Guianas, northeast Brazil and Trinidad, as well as in eastern Peru, eastern Bolivia, and western Amazonian Brazil.
A rare swift with a wide distribution, exact limits of range not well known.
Taxonomy
Amazonian Swift was recently lumped into this species. Formerly considered conspecific with Chimney Swift and Vaux's Swift.
Subspecies
Two subspecies are recognized[1].
Habitat
Lowland forest and secondary scrub to 1600m.
Behaviour
Diet
Feeds in the air on insects, in dense low cloud conditions also close to the ground.
Forages often in mixed flocks with Short-tailed Swifts, Gray-rumped Swifts, Band-rumped Swifts, White-collared Swifts and White-tipped Swifts. Also in monospecific flocks.
Breeding
Breeds in the wet season from late spring to early autumn, in Trinidad from early May to early June. One known nest in Trinidad was 20 cm below the top of a cement manhole in a brushy savanna, together with nests of Short-tailed Swifts. It was a half-cup nest. May also breed in tree hollows. Lays two, possibly three eggs.
Movements
This is a resident species.
References
Clements, J. F., T. S. Schulenberg, M. J. Iliff, D. Roberson, T. A. Fredericks, B. L. Sullivan, and C. L. Wood. 2016. The eBird/Clements checklist of birds of the world: v2016, with updates to August 2016. Downloaded from http://www.birds.cornell.edu/clementschecklist/download/
Handbook of the Birds of the World Alive (retrieved November 2016)
BirdLife International
Recommended Citation
External Links
GSearch checked for 2020 platform.