Alternative names: Margaret's Hummingbird; Amethyst-throated Mountaingem; Amethyst-throated Hummingbird
Lampornis amethystinus
Identification
11·5–12·5 cm
Black bill, slightly decurved
Dark green crown and back
Underside dark brown to grey
Tail dark with pale grey tips to outer rectrices
Stripe down from eye is dark grey
Postocular stripe whitish
Male has rosy-pink gorget which to the rear is bordered by buffy to whitish malar stripe
Female has throat area buffy
Distribution
Central America: found in Mexico, Guatemala, El Salvador, and Honduras
Taxonomy
Subspecies
There are 5 subspecies[1]
Southern Mexico (western Sierra de Miahuatlán, in southwestern Oaxaca)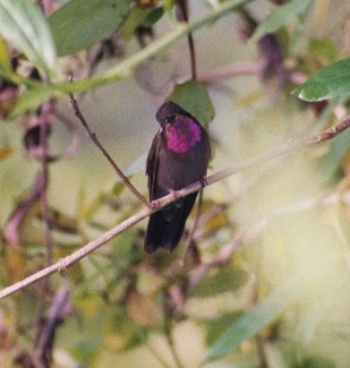 In addition, L. a. brevirostris is recognised by some authors[2]
Habitat
Moist montanes.
Behaviour
Diet
The diet includes nectar from a variety of flowers.
References
Clements, J. F., T. S. Schulenberg, M. J. Iliff, S. M. Billerman, T. A. Fredericks, J. A. Gerbracht, D. Lepage, B. L. Sullivan, and C. L. Wood. 2021. The eBird/Clements checklist of Birds of the World: v2021. Downloaded from https://www.birds.cornell.edu/clementschecklist/download/
Fagan, J & O Komar 2016. Peterson Field Guide to Birds of Northern Central America. Houghton Mifflin Harcourt Publishing Company, New York, New York, USA. ISBN 978-0-544-37326-6
Avibase
Recommended Citation
External Links
GSearch checked for 2020 platform.