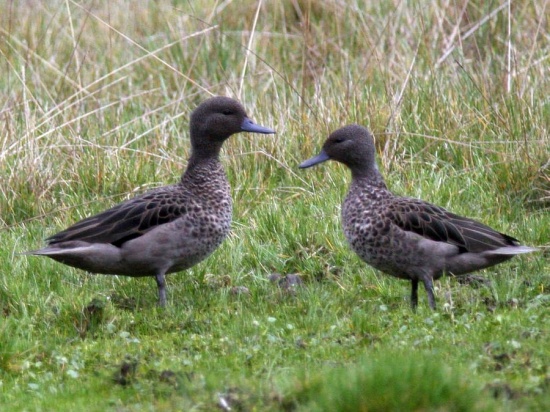 Anas andium
Includes Mérida Speckled Teal
Identification
35–45 cm
Generally a dark duck with no change between seasons. Breast has blackish spots on paler ground color. Bill is dark grey to blue-grey.
Distribution
Andes from Colombia and Venezuela south to Ecuador and the very northernmost Peru.
Taxonomy
Two subspecies are recognized1:
A. a. altipetens
A. a. andium.
This species and Yellow-billed Teal were in the past considered one species, Speckled Teal2. Restall3 went one step further and split Anas altipetens as Mérida Speckled Teal; this form occurs in northern Colombia and western Venezuela.
Habitat
Mainly freshwater, in much of the range at high elevation.
Behaviour
Similar to other small dabbling ducks.
References
Clements, James F. 2007. The Clements Checklist of Birds of the World. 6th ed., with updates to October 2007. Ithaca: Cornell University Press. ISBN 9780801445019
Proposal (#356) to South American Classification Committee
Restall et al. 2006. Birds of Northern South America. Yale University Press. ISBN 9780300124156
del Hoyo, J., N. Collar, and G. M. Kirwan (2020). Andean Teal (Anas andium), version 1.0. In Birds of the World (J. del Hoyo, A. Elliott, J. Sargatal, D.A. Christie, and E. de Juana, Editors). Cornell Lab of Ornithology, Ithaca, NY, USA. https://doi.org/10.2173/bow.spetea3.01
Recommended Citation
External Links
GSearch checked for 2020 platform.