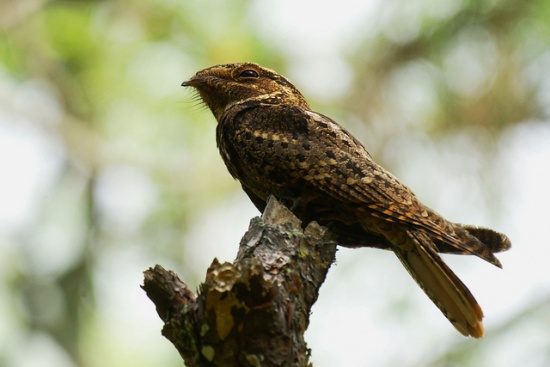 Antrostomus carolinensis
Caprimulgus carolinensis
Identification
28-32cm

Brown, black and grey plumage
Large head
Brown throat
Small bill
Long rounded tail
Distribution
Southeastern Nebraska east to Maryland; absent from the Appalachians. Rare breeder north to New York City. Winters southeastern United States to Greater Antilles and northern South America.
Casual to accidental vagrant north of range but with records in most eastern states and provinces; also accidental to California and Nevada.
Taxonomy
It was formerly placed in the genus Caprimulgus
Habitat
Mixed forests, swamps, rocky uplands, and pine woods.
Behaviour
Nocturnal.
Breeding
The white-grey dark marked eggs are laid directly on to the ground.
Diet
The diet includes flying insects such as beetles and moths.
References
Clements, J. F., T. S. Schulenberg, M. J. Iliff, B.L. Sullivan, C. L. Wood, and D. Roberson. 2012. The eBird/Clements Checklist of Birds of the World. 6th ed., with updates to October 2012. Ithaca: Cornell Univ. Press. ISBN 978-0801445019. Spreadsheet available at http://www.birds.cornell.edu/clementschecklist/downloadable-clements-checklist
Birdforum thread discussing Caprimulgus vs Antrostomus
All About Birds
Recommended Citation
External Links