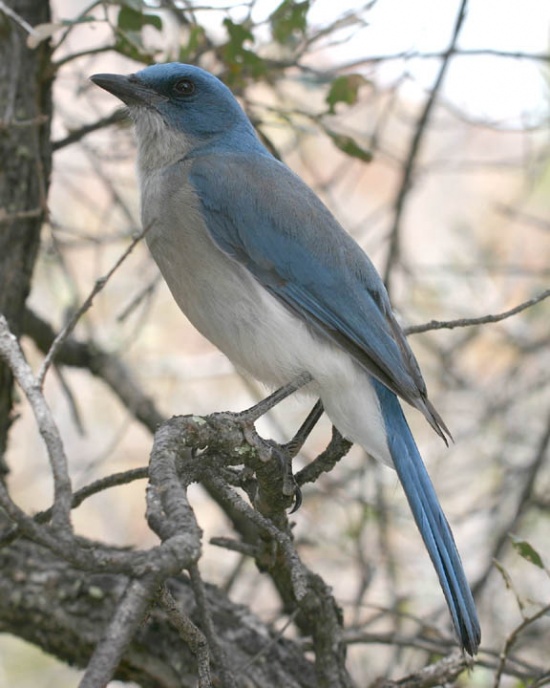 Alternative Names: Gray-breasted Jay; Ultramarine Jay
Identification
28 - 32cm. The Mexican or Gray-breasted Jay, is a larger, stockier member of the genus of "scrub-jays":
Dark bluish head with black lores and darker area around eye
Bluish-purple upperparts
Brownish-grey underparts
Paler throat
Brown eye
Black bill and legs
Sexes similar, females are slightly smaller. Juveniles are mouse-grey above.
Similar species
Similar to the other scrub-jays like Woodhouse's Scrub Jay but lacks collar or sharp contrast between throat and belly and has no white supercilium.
Distribution
In US, resident in south-eastern Arizona and a part of the Rio Grande Valley of Texas. Also northern to central Mexico. Common in its range.
Taxonomy
This species has been split from Transvolcanic Jay (Aphelocoma ultramarina).
Subspecies[1]
Mexican Jay (Western)
Mexican Jay (Eastern)
Habitat
Oak forests and canyons.
Behaviour
A resident species.
Diet
An omnivorous feeder. Takes nuts, fruits, seeds, nectar, invertebrates, small vertebrates like lizards or small birds and carrion. Where available also scraps provided by humans. Caches nuts to feed on through the winter. Especially in July and August caches thousands of poine seeds and acorns.
Breeding
These jays have a highly developed social system, with one or two dominant breeding pairs leading an extended family flock of up to 20 birds. The younger members act as nest helpers. The bulky nest is made of dead twigs and placed 4 to 24 m above the ground in a leafy tree. Lays 1 - 5 eggs.
References
Clements, JF. 2011. The Clements Checklist of Birds of the World. 6th ed., with updates to August 2011. Ithaca: Cornell Univ. Press. ISBN 978-0801445019. Spreadsheet available at http://www.birds.cornell.edu/clementschecklist/downloadable-clements-checklist
Del Hoyo, J, A Elliott, and D Christie, eds. 2009. Handbook of the Birds of the World. Volume 14: Bush-shrikes to Old World Sparrows. Barcelona: Lynx Edicions. ISBN 978-8496553507
Paper describing genetic findings with this species
Birdforum thread discussing among other things the split of Transvolcanic Jay and Mexican Jay
Recommended Citation
External Links