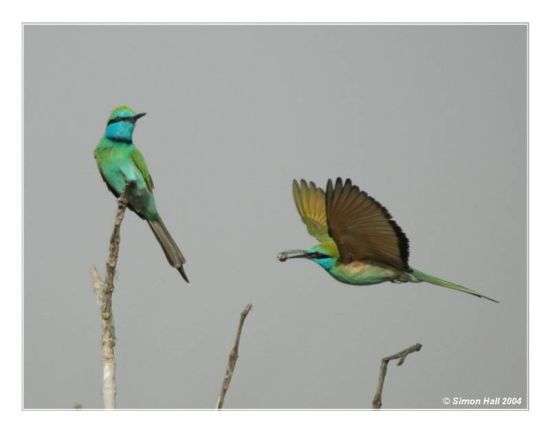 Merops cyanophrys
Identification
16-18 cm
Male: Mostly green to golden green with paler underside especially at the rear. Blue at the front and sides of head as well as on throat. Blue is interrupted by a black mask and limited below by a black band across upper breast. Central tail feathers has spike-like extensions.
Female: Very similar with slightly less strongly marked head.
Juvenile: Hints at the same pattern but with brown infusions overall.
Distribution
Middle East to Iraq and the Arabian Peninsula (and Iran?).
Taxonomy
This is a monotypic species[1].
Subspecies
Two subspecies are recognized[1].
Central Arabian plateau and eastern Arabia
Which subspecies may be found further north is currently unclear.
Habitat
Most environments with scrub or trees intermixed with open areas but not the driest areas and not forests.
Behaviour
Dispersive but not migratory.
Food consists of flying insects captured by sallies from a perch. Often gregarious.
Vocalisation
A dry, rolling rattle which descends in pitch, and a tic sound has been described.
References
Clements, J. F., T. S. Schulenberg, M. J. Iliff, T. A. Fredericks, J. A. Gerbracht, D. Lepage, S. M. Billerman, B. L. Sullivan, and C. L. Wood. 2022. The eBird/Clements checklist of Birds of the World: v2022. Downloaded from https://www.birds.cornell.edu/clementschecklist/download/
Gill, F, D Donsker, and P Rasmussen (Eds). 2023. IOC World Bird List (v 13.1)_red. Doi 10.14344/IOC.ML.13.1. http://www.worldbirdnames.org/
Kirwan, G. M., H. Fry, and P. F. D. Boesman (2022). Arabian Green Bee-eater (Merops cyanophrys), version 1.0. In Birds of the World (G. M. Kirwan, Editor). Cornell Lab of Ornithology, Ithaca, NY, USA. https://doi.org/10.2173/bow.grnbee2.01
Recommended Citation
External Links

Search for photos of Arabian Green Bee-eater in the gallery

GSearch checked for 2020 platform.1