Alternative name: Archer's Ground Robin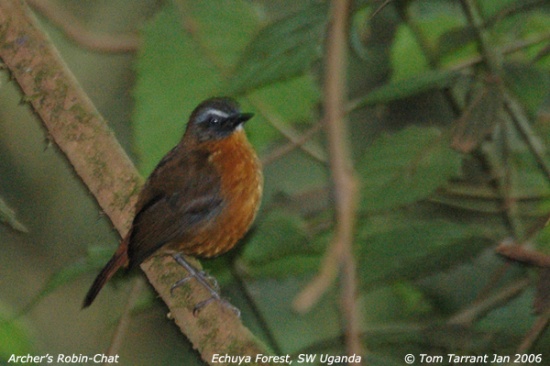 Cossypha archeri
Identification
15 cm
Long white supercilium
White chin spot
Rufous tail
Black bill
Similar Species
Similar to Mountain Robin-Chat which has a much shorter supercilium.
Distribution
Africa:
Western Africa: Democratic Republic of Congo
Eastern Africa: Uganda, Rwanda, Burundi
Taxonomy
Subspecies
There are 2 subspecies[1]:
C. a. archeri (albimentalis):
Montane forests of south-eastern Zaire (Mount Kabobo)
Habitat
Rainforest and high-altitude shrubland.
Behaviour
Diet
A ground feeder, there diet consists almost entirely of insects, beetles, caterpillars etc.
References
Clements, J. F., T. S. Schulenberg, M. J. Iliff, D. Roberson, T. A. Fredericks, B. L. Sullivan, and C. L. Wood. 2014. The eBird/Clements checklist of birds of the world: Version 6.9., with updates to August 2014. Downloaded from http://www.birds.cornell.edu/clementschecklist/download/
Avibase
Handbook of the Birds of the World Alive (retrieved November 2014)
Recommended Citation
External Links