This article is incomplete.
This article is missing one or more sections. You can help the BirdForum Opus by expanding it.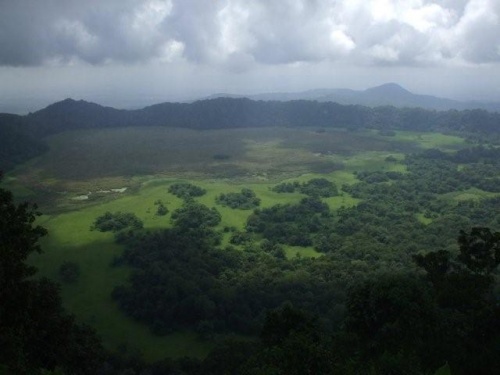 Overview
Arusha National Park is located in the north of Tanzania and is 137km² in size, including the 4566m peak of Mt Meru. The parks has a variety of habitats, from lakes and savanna woodland and grasslands, through montane forest and heath, to alpine meadows.
Birds
Notable Species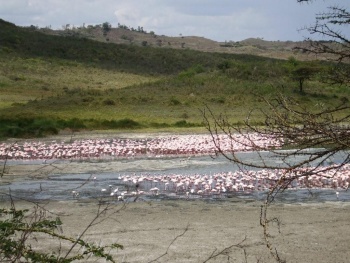 Most birding interst focusses on the forest and lakes, with a wide variety of forest species available with luck. Starlings are particularly well represented, and it's not unusual to see several of Waller's, Sharpe's, Kenrick's or Abbott's Starlings in a day. Other notable passerines include Grey-headed Negrofinch, Abyssinian Crimson-wing, African Hill Babbler, and a variety of greenbuls. Black-fronted Bushshrike is well worth looking for and Sulphur-breasted Bushshrike can often be found too. A variety of cisticolas are also present here, for the dedicated: Singing, Hunter's, Siffling, Trilling, Winding, Rattling, Desert, and Zitting Cisticola are all present. Of the non-passerines both Bar-tailed and Narina Trogon are present, and Hartlaub's Turaco is usually easy to see. White-eared and Brown-breasted Barbet are both likely, but Moustached Green Tinkerbird and Olive Woodpecker can be hard to locate. Red-fronted Parrots are easier here than many places in Tanzania, whilst there's a good range of raptors to be seen, including Mountain Buzzard, Ayres's Hawk Eagle and several pairs of Crowned Eagle. Lammergeier nest on the peak of Meru, but are unlikely to be seen in a casual visit.
Both Lesser and Greater Flamingo are often present on the Momella lakes -often in several thousands during the dry seaon (June - October), and closer approach is possible here than in the better known flamingo lakes of Lake Manyara and Lake Magadi in the Ngorongoro Crater. Other waterbirds include Cape Teal, Southern Pochard, Black-necked and Little Grebe, whilst Maccoa Duck is now only present in very small numbers. A reasonable selection of palearctic waders are present from August - April.
Rarities
There's an interesting debate about the identity of the woodland-frequenting pipit at this site. There are certainly typical hararensis Long-billed Pipits present, but also a tree-dwelling form often seen near the 'Small Serengeti' that seems most similar to theas yet unresolved 'Nairobi Pipit'. Bushes around Momella Lakes were the site of Tanzania's first Eurasian Wryneck in 2010.
Check-list
Birds you can see here include:
"to do"
Other Wildlife
A variety of plains game are found in the park - Zebra, Buffalo, Bushbuck, Warthog and Giraffe are all easily seen. Leopard and Hyaena are present but very rarely seen. Suni are present in the forest, and Hippo are resident in the freshest water lakes. Olive Baboons are extremely common, Blue (or Sykes) Monkeys and the highland form of the Black and White Colobus are also likely sightings.
Site Information
History and Use
"to do"
Areas of Interest
There are three main birding areas - to the West are the forested slopes of Mt Meru, often shrowded in cloud. To the north are the Momella Lakes and in the east is (forested) the Ngurdoto Crater. Between these main areas a lot of secondary forest is regrowing, but is of less interest to the birder. In a day trip it is possible to visit two of these areas - if the mountain is clear, the Mt Meru side is perhaps best explored by collecting a guide from the Momella gate and walking (you pay for walking at the main gate on entry) - the best option would be to drive to the highest point the road reaches on the mountain (up the road past a famous fig arch) - the road starts just opposite Momella Gate, by crossing the river. Send the car to the bottom and walk back down through the forest zones, starting on the edge of the Montane heath with options of a number of high altitude sunbird species. The Podocarpus forest is home to Red-fronted Parrots, and they'll surely be heard high above, whilst the cloud forest a little lower down is the best altitude to look for Bar-tailed Trogon. Other birds are shared with the forests around Ngurdoto Crater, which is probably a better destination if the cloud is low.
Ngurdoto Crater is best approached not, as most tourists do, by heading around the south and east side, but by taking the left fork along the west and north side. This road is both much quieter, so it's easy to hop out and look for birds without blocking the road for others, and goes to the highest point on the crater rim, where some of the higher altitude species prefer. Stop frequently and hop out the car to whenever you find a feeding party Cinnamon-chested Bee-eater are easy here, African Olive Pigeon is regular and many of the forest species mentioned above should be findable in foraging parties, though you might have to search through a lot of Montane White-eye and White-eyed Slaty Flycatcher!
Momella Lakes are a good destination for the hotter part of the day, as waterbirds are easily visible any time - the first lake with 1000s of Little Grebe and Southern Pochard is the site to check for Maccoa Duck. The road system around the edge is pretty good: always check the base of the trees immediately after the viewpoint/picnic site and elsewhere for roosting Black-crowned Night-Heron and Greater Painted Snipe.
Other places to stop whilst passing are: (a) the main gate has Cape Robin-Chat, Rüppell's Robin-Chat, Fan-tailed Grassbird, Bronze Sunbird, Wire-tailed Swallow, Moustached Grass Warbler, Baglafecht Weaver and a variety of others possible whilst formalities are completed. (b) the small stream immediately beyond the 'Small Serengeti' (which usually has Trilling Cisticola), where kingfishers and Mountain Wagtail are possible. (c) The small museum - wait in the clearing here for a foraging party to come past, and you will probably find some of African Dusky Flycatcher, Retz's Helmetshrike, Crowned Hornbill, African Black-headed Oriole, Black Cuckoo-shrike and a barbet or two. In the undergrowth you might encounter White-starred Robin or Black-and-White Mannikin. (d) the fresh-water lake to the north of the road between the museum and the Momella lakes - scan here for hippos, but check the papyrus for Taveta Golden Weaver and Grosbeak Weaver, whilst the lake itself often holds White-faced Whistling Duck, Black Crake, African Jacana and a vide variety of other waterbirds.
Access and Facilities
There are two gate - the main Ngurdoto Gate on the southern side, and Momella Gate on the north - park fees (and walking fees if need be) should be paid here. There are a number of picnic sites and campsites, a small museum near the Ngurdoto crater (with toilets) and that's about it.
Contact Details
"to do"
External Links