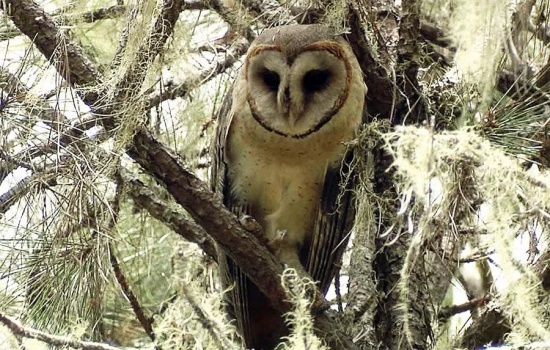 Tyto glaucops
Identification
L. 35 cm (14in)
Relatively long-legged
Reddish-brown
Silver-gray, heart-shaped face
Distribution
Nominate form is known from Hispanola, while the subspecies nigrescens and insularis are known from islands in the Lesser Antilles such as Dominica, St. Vincent, and Grenada.
Taxonomy
Subspecies[1]
The Ashy-faced Owl was traditionally assumed to be a subspecies of the Barn Owl, however, recent changes in distribution has led to co-occurrence with the US form of Barn owl without interbreeding; Ashy-faced Owl is therefore now widely recognized as a separate species.

It is uncertain if this species includes the two forms found in the Lesser Antilles (and an extinct form from Puerto Rico), but that is the most often used interpretation.
Habitat
Open woodland, pine forest and scrub to at least a height of 1,800 meters above sea level. Can often be found around towns and villages.
Behaviour
Diet
The diet includes small mammals and small birds, tree frogs and lizards.
Breeding
They breed from January to June. Nesting in tree cavities, sink holes, on ledges and in buildings. Three to seven eggs are laid.
References
Clements, JF. 2008. The Clements Checklist of Birds of the World. 6th ed., with updates to December 2008. Ithaca: Cornell Univ. Press. ISBN 978-0801445019.
World Owl Trust
BF Member observations
Recommended Citation
External Links