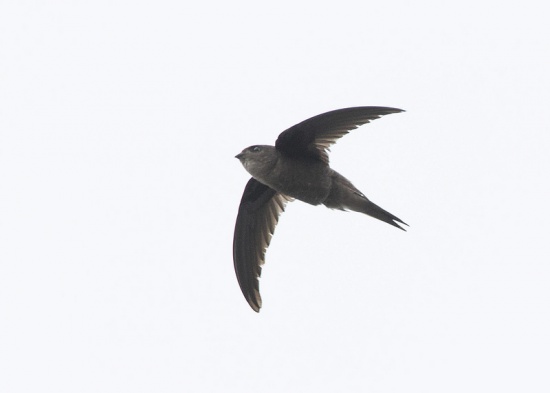 Cypsiurus balasiensis
Identification
13 cm (5 in). A small swift with extremely long and narrow wings.
Body brownish, darkest on crown, rump slightly paler
Wings thin and very long
Long and narrow tail-streamers (often held folded)
Juveniles are paler and have slightly shorter tail-streamers
Distribution
Southeast Asia: Indian Subcontinent, Sri Lanka, Bangladesh, Myanmar, Laos, Vietnam, Thailand, Malaysia, the Philippines and Indonesia.
Common and locally abundant. Not globally threatened.
Taxonomy
Forms a superspecies with the African Palm Swift Cypsiurus parvus and was also formerly lumped with this species.
Subspecies
Four subspecies recognized[1]
Habitat
Occurs wherever fan and betelnut palms are present. Cities, towns, cultivated area, rarer in forested areas. Up to 1500m.
Behaviour
Movements
A resident species.
Diet
Feeds on insects, eg. flying ants, termites and beetles. Highly gregarious, often found in foraging in mixed flocks with Little Swifts.
Breeding
Breeds all year round with local peaks. Nest built in palm fronds, sometimes in thatched roofs, usually small groups breeding together. The nest is a tiny half-cup, attached on three sides to palm leaves. The two eggs are not glued to nest as in African Palm Swift.
References
Clements, J. F., T. S. Schulenberg, M. J. Iliff, D. Roberson, T. A. Fredericks, B. L. Sullivan, and C. L. Wood. 2015. The eBird/Clements checklist of birds of the world: v2015, with updates to August 2015. Downloaded from http://www.birds.cornell.edu/clementschecklist/download/
Recommended Citation
External Links