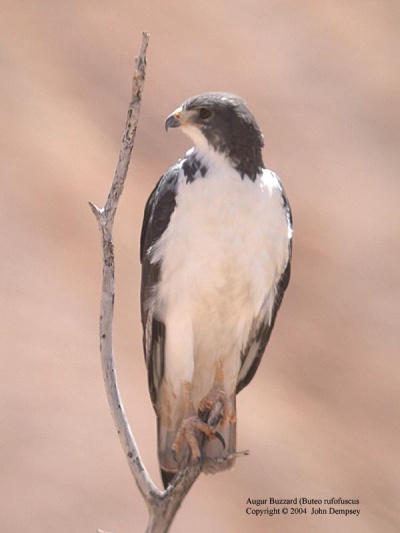 Buteo augur
Identification
Length 48–60 cm (19-23½ in)
Adult
White belly and chest, speckled grey
Dark slate-grey body
Rufous tail feathers
Yellow beak grey tipped

Immature:
Upper parts brown with buff marking
Brown-streaked white underparts
Greyish tail below with light barring
Full adult plumage is attained at about 18 months.
Distribution
East Africa: Sudan, Ethiopia, Somalia, and eastern Zaire to Namibia and Zimbabwe.
Taxonomy
Buteo augur is monotypic[4]; it is closely related to Jackal Buzzard B. rufofuscus. Some authors include Archer's Buzzard as a subspecies or a color morph of Augur Buzzard, others accept it as full species.[3].
Habitat
Prefers mountainous and hilly habitats, but also found in open woodland, savanna and grassland.
Behaviour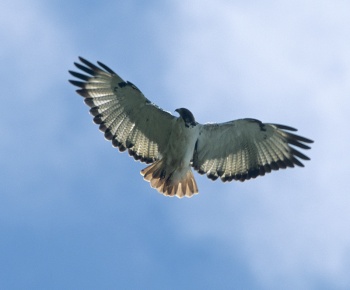 Diet
Their diet consists mainly of lizards, snakes and small birds; small mammals and insects are also eaten.
Breeding
They build a large stick nest on a cliff or sometimes a tall tree. Two eggs are incubated mostly by the female for 39-45 days; the second egg hatches about a day after the first. The younger chick is usually killed by its sibling within a few days. The surviving chick fledges after about 30 days and the nestling period is about 50 days.
Gallery
Click on photo for larger image
References
Gibbon, G. 2002. Roberts' Multimedia Birds of Southern Africa: Version 3. John Voelcker Bird Book Fund. www.sabirding.co.za
Thread in the Taxonomy Forum discussing the relationships of Archer's Buzzard and Augur Buzzard
Clements, J. F., T. S. Schulenberg, M. J. Iliff, D. Roberson, T. A. Fredericks, B. L. Sullivan, and C. L. Wood. 2018. The eBird/Clements checklist of birds of the world: v2018. Downloaded from http://www.birds.cornell.edu/clementschecklist/download/
Handbook of the Birds of the World Alive (retrieved January 2017)
Recommended Citation
External Links