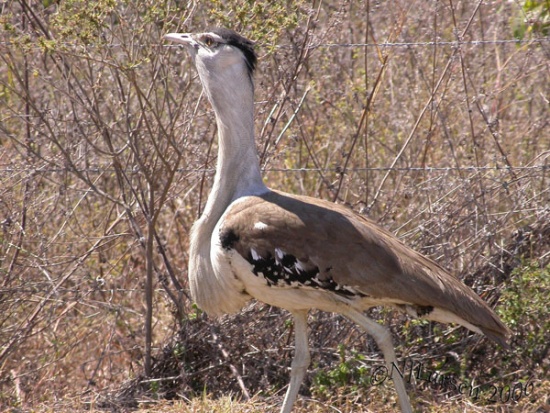 Ardeotis australis
Identification
Male - 1.2 m; female 80cm. At a distance seen as a mostly pale bird with browner upperside. Closer up, one will notice dark crown (black in male, brown in female), black band across lower breast, and black-white spotting along lower edge of wing. Displaying Male inflates breast sac - see Behaviour.
Distribution
Lowlands of Australia (except south-western/eastern) and southern New Guinea.
Taxonomy
This is a monotypic species[1].
Habitat
Scrubby areas, spinifex, grasslands and grass-woodland.
Behaviour
This species is nomadic and partly migratory, leading to it being found further south in summer and north in winter.
Movement
In flight looks heavy with slow wing beats and feet protruding behind the tail. It is probably more likely to try to walk away than to fly away from danger.
Diet
In feeding, the Australian Bustard will avoid the heat of mid day. The diet includes leaves, buds, seeds, fruit, frogs, lizards, and invertebrates. Can be abundant around swarms of grasshoppers, or where house mice are common.
Breeding
Male in display will inflate a breast sac with white feathers so that this reaches the ground, and fan the tail over the back.
In breeding, one to three eggs get laid on the ground, no proper nest is made. The female sits on the eggs and cares for the young.
References
Clements, J. F., T. S. Schulenberg, M. J. Iliff, D. Roberson, T. A. Fredericks, B. L. Sullivan, and C. L. Wood. 2016. The eBird/Clements checklist of birds of the world: v2016, with updates to August 2016. Downloaded from http://www.birds.cornell.edu/clementschecklist/download/
Pizzey, G. & Knight, F. 1997. Birds of Australia (Collins Field Guide). HarperCollins Publishers, London. ISBN 0-00-220132-1
Recommended Citation
External Links