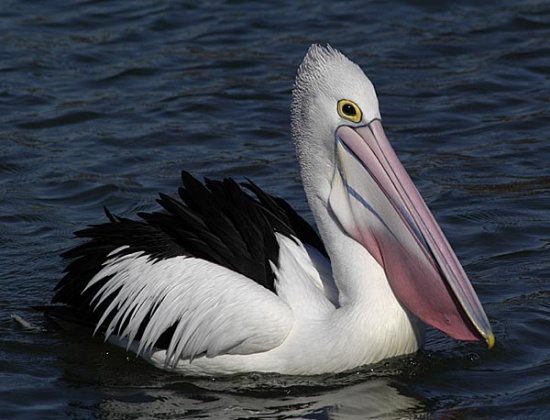 Pelecanus conspicillatus
Identification
Length 160-180 cm, (70-71 in.) wingspan 230-260 cm, (90-91 in.) and weight 4-6.8 kg.
Mainly white, with black tail, primaries, secondaries and inner secondary coverts; also a narrow black wingbar on underside of wing. Very large pale, pinkish bill; dark eye with pale yellow or white eye ring.
Distribution
Australia and Tasmania; winters to New Guinea region
Taxonomy
This is a monotypic species[1].
An extinct subspecies P. c. novaezealandiae has been described from subfossils in New Zealand[2].
Habitat
Marine and freshwater environments, lakes and rivers.
Behaviour
Breeding
They nest communally. The nest is a shallow depression in earth or sand, sometimes with some grass lining. Up to three chalky white eggs are laid.
Diet
The diet includes fish.
References
Clements, J. F., T. S. Schulenberg, M. J. Iliff, D. Roberson, T. A. Fredericks, B. L. Sullivan, and C. L. Wood. 2014. The eBird/Clements checklist of birds of the world: Version 6.9., with updates to August 2014. Downloaded from http://www.birds.cornell.edu/clementschecklist/download/
Scarlett, R. J. (1966). A Pelican in New Zealand. Notornis 13: 204-217.
Wikipedia
BF Member observations
Recommended Citation
External Links