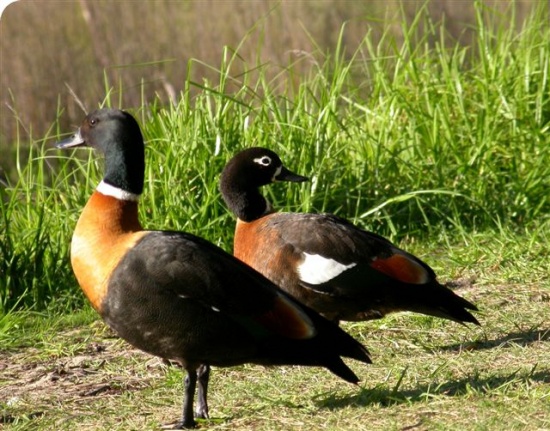 Tadorna tadornoides
Identification
In flight, upperwing and underwing coverts are mainly white. Upperwing secondaries are green, while flight feathers are black seen from below. The body is mainly dark blackish-brown, breast and scapulars are chestnut, head is dark or sometimes described as having green iridiscence. Mid neck is a narrow white ring. Female is recognized by her white eye-ring.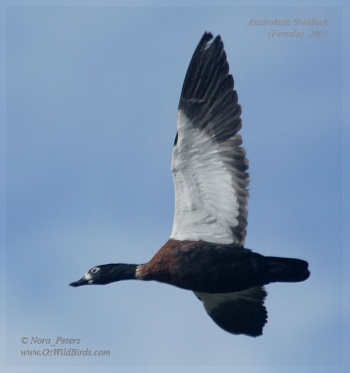 Distribution
Found in the southern half of eastern mainland Australia, Tasmania, and the south-west quarter of mainland Australia.
Taxonomy
This is a monotypic species[1].
Habitat
Shallow water of any kind; nest is sometimes far from nearest water.
Behaviour
Breeding
They breed in tree holes, holes in banks or similar and the nest is lined with down. Only the female incubates the eggs.
Diet
The diet includes grass on land or in shallow water, algae, insects and molluscs.
References
Clements, JF. 2008. The Clements Checklist of Birds of the World. 6th ed., with updates to December 2008. Ithaca: Cornell Univ. Press. ISBN 978-0801445019.
Pizzey, G. & Knight, F. 1997. Birds of Australia (Collins Field Guide). HarperCollins Publishers, London. ISBN 0-00-220132-1
Wikipedia
Recommended Citation
External Links