Aythya fuligula
Identification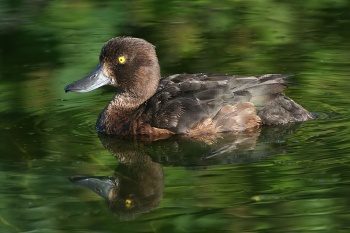 Small diving duck.
Male
Superficially black head at distance (green and purple sheen close under bright sunlight)
Black breast, and vent
Bright white flanks
Tuft of feathers on back of head

Female
Dark brown
Lighter flanks
Tuft less distinctive

Both sexes have very bright yellow circular iris in large eyes with distinctive large, dark pupil.
Distribution
Temperate and northern Eurasia.
Taxonomy
Monotypic[1]
Habitat
Freshwater lakes, ponds and gravel pits.
Behaviour
Breeding
Nests on islands in freshwater wetlands.
Diet
The diet includes molluscs and insects.
Vocalisation
Generally quiet outside of breeding season. Male calls with whistle during courtship.
Tufted Duck voice
References
Clements, J. F., T. S. Schulenberg, M. J. Iliff, D. Roberson, T. A. Fredericks, B. L. Sullivan, and C. L. Wood. 2018. The eBird/Clements checklist of birds of the world: v2018. Downloaded from http://www.birds.cornell.edu/clementschecklist/download/
Azzi, M. and R. Garrison 2012. "Aythya fuligula" (On-line), Animal Diversity Web. Accessed October 01, 2018 at http://animaldiversity.org/accounts/Aythya_fuligula/
Carboneras, C. & Kirwan, G.M. (2018). Tufted Duck (Aythya fuligula). In: del Hoyo, J., Elliott, A., Sargatal, J., Christie, D.A. & de Juana, E. (eds.). Handbook of the Birds of the World Alive. Lynx Edicions, Barcelona. (retrieved from https://www.hbw.com/node/52910 on 1 October 2018).
Madge, S. & Burn, H. (1988) Waterfowl. An identification guide to the ducks, geese and swans of the world. Houghton Mufflin, Boston.
Todd, F. (1979). Waterfowl. Ducks, Geese & Swans of the World. Sea World, San Diego.
Recommended Citation
External Links
GSearch checked for 2020 platform.1