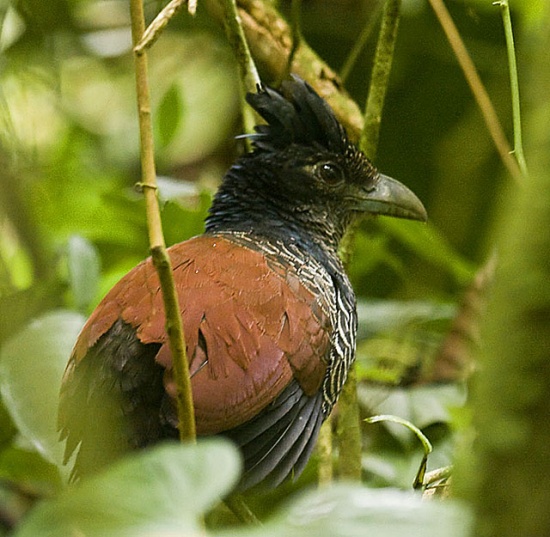 Neomorphus radiolosus
Identification
46 cm

Pronounced glossy blue-black crest and hindneck
Large bare blue, ocular area
Black back
Black underparts buffy-white scaled or banded
Chestnut wings and lower back
Long tail; blackish glossed green
Bill dark above and yellow below

Immature similar but with ochraceous scaling and lacks bluish head sheen.
Similar species
Rufous-vented Ground Cuckoo has a yellow bill, is bronzy-brown above, glossed green wings and a narrow, broken black chest-band.
Distribution
South America: found in the humid lowlands of south-western Colombia and north-western Ecuador.
A rare and local species, poorly known.
Taxonomy
This is a monotypic species[1].
Habitat
Moist lowland forests and montanes.
Occurs from 450 to 1525m, mainly at 500 to 1200m.
Behaviour
A terrestrial species. Known to follow peccaries.
Diet
Poorly known. Includes invertebrates (eg grasshoppers) and vertebrates (eg small frogs).
Breeding
Until very recently now information on nesting. Two recent records are from March to April and from May. Both nests were placed 5m above the ground in understorey trees. The clutch size seems to be very small, probably only one single egg.
Movements
A resident species.
References
Clements, J. F., T. S. Schulenberg, M. J. Iliff, B.L. Sullivan, C. L. Wood, and D. Roberson. 2013. The eBird/Clements checklist of birds of the world: Version 6.8., with updates to August 2013. Downloaded from http://www.birds.cornell.edu/clementschecklist/download/
Del Hoyo, J, A Elliot, and J Sargatal, eds. 1997. Handbook of the Birds of the World. Volume 4: Sandgrouse to Cuckoos. Barcelona: Lynx Edicions. ISBN 978-8487334221
Birdlife International
Recommended Citation
External Links