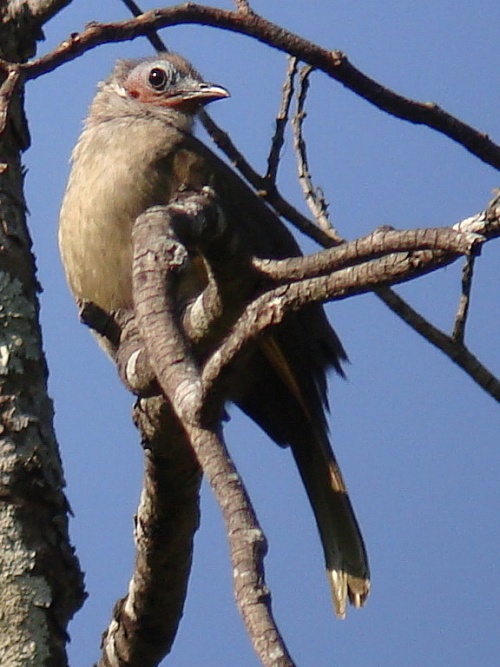 Nok hualon
Pycnonotus hualon
Identification
A newly described species with first sightings in 1995 and officially described in 2009.
Bare face and side of the head
Extensive pale blue periorbital and loral skin and orange-pink skin on the rear side of head
Loose, hair-like filoplumes along mid-crown
Olive undertail-coverts
Fawn-grey breast and belly
White throat
Distribution
Currently only know from Laos. Recorded at Pha Lom and Khammouan province limestone.
May also occur in other similar habitat in Laos or Vietnam. A restricted-range species.
Taxonomy
This is a monotypic species[1]. Birds seen at Khammouan differ slightly in appearance.
Habitat
Limestone karst
Behaviour
Recorded feeding on berries.
A conspicuous species, mostly seen foraging and moving at all times of day. Usually seen singly or in pairs.
No information yet about breeding.

References
Clements, J. F., T. S. Schulenberg, M. J. Iliff, S. M. Billerman, T. A. Fredericks, B. L. Sullivan, and C. L. Wood. 2019. The eBird/Clements Checklist of Birds of the World: v2019. Downloaded from http://www.birds.cornell.edu/clementschecklist/download/
Woxvold J., Duckworth J.W. & Timmins R.J. 2009. An unusual new bulbul (Passeriformes:Pycnonotidae) from the limestone karst of Lao PDR. In: Forktail 25 (2009): 1-12
De Win S. 2009. Laos' Khammouane Bulbul, a new bird species from Laos. [1]
External Links
Use "Nok hualon" to
Use "Pycnonotus hualon" to
GSearch checked for 2020 platform.