Alternative name: Sulawesi Honey Buzzard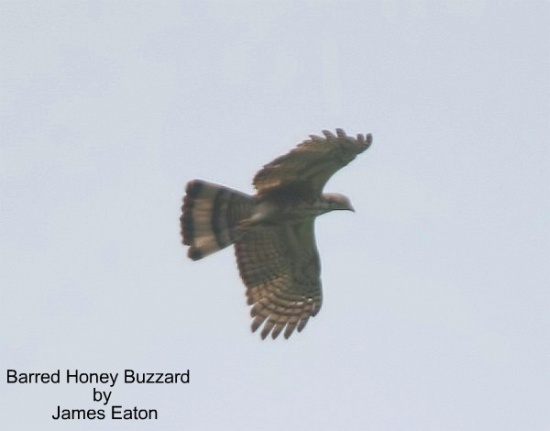 Pernis celebensis
Identification
Adult

Black crown and nape
Short crest on nape
Sepia upper parts and upper wings
Buff streaks on upper back
Brown to black tail with a broad pale brown band
Sides of the head are streaked with sepia and pale brown
White throat and chin narrowly streaked with black, broad black median line and black edges
Buff upper breast streaked with dark brown
Barred white and dark brown lower breast, belly and under-wing coverts
Yellow to brown eyes
Yellow cere and feet
Bill black above, and horn coloured at base of lower mandible

Immatures are much paler brown above than the adult; pale sepia with paler edges.
Similar species
Plumage of both adult and immature is similar to Sulawesi Hawk-Eagle
Distribution
Sulawesi, Muna, Butung and Peleng islands. Resident.
Taxonomy
This is a monotypic species[1].
Philippine Honey Buzzard was recently split from this species.
Habitat
Tropical forest.
Behaviour
Diet
The diet includes bees and their honey-combs.
References
Clements, J. F., T. S. Schulenberg, M. J. Iliff, S. M. Billerman, T. A. Fredericks, B. L. Sullivan, and C. L. Wood. 2019. The eBird/Clements Checklist of Birds of the World: v2019. Downloaded from http://www.birds.cornell.edu/clementschecklist/download/
Gill, F, D Donsker, and P Rasmussen (Eds). 2020. IOC World Bird List (v 10.2). Doi 10.14344/IOC.ML.10.2. http://www.worldbirdnames.org/
Recommended Citation
External Links