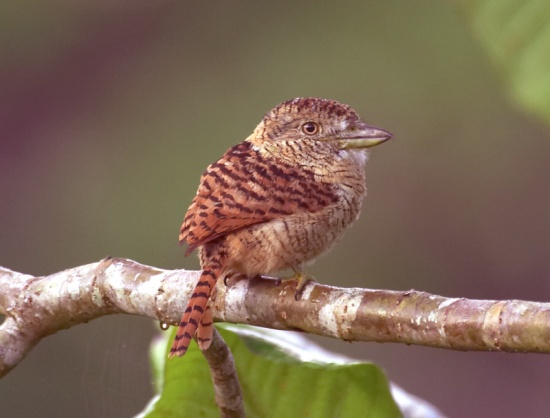 Nystalus radiatus
Identification
Bill grey green; eyes yellow. Cinnamon rufous barred black above, broad buffy nuchal collar and white throat; sides of face and underparts buff finely barred black, most heavily on sides.
Distribution
From central Panama (northern Cocle) through Colombia to western Ecuador.
Taxonomy
Monotypic[1]
Habitat
Forest clearing in cloud forests to 900m.
Behaviour
Often in separated pairs perched quietly and partially hidden in foliage at mid-level or higher. Occasionally lower or may even drop to ground for prey. Sallies at long intervals to foliage on branches for prey.
Diet
The diet includes insects, even as large as grasshoppers.
Vocalisation
Call: a long, slow, wolf-whistle, phweeeeet-weeeeeuuuu (about 4-5 seconds) repeated about twice a minute; ventriloquial, remarkably humanlike, and not often heard.
References
Clements, JF. 2008. The Clements Checklist of Birds of the World. 6th ed., with updates to December 2008. Ithaca: Cornell Univ. Press. ISBN 978-0801445019.
BF Member observations
Angehr and Dean: The birds of Panama
Recommended Citation
External Links
GSearch checked for 2020 platform.