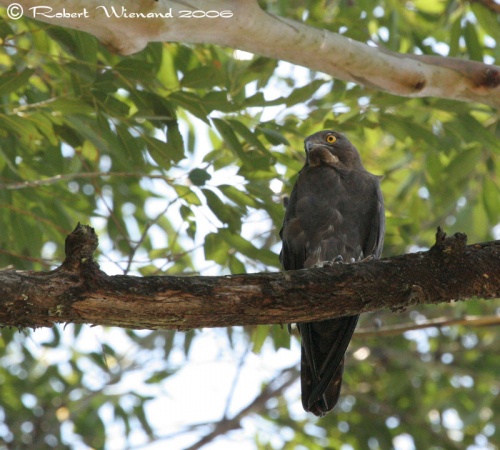 Macheiramphus alcinus
Identification
45 cm
A sooty brown raptor, appearing black in the field, with variable amounts of white on the throat and belly. At close quarters, white legs, eyelids and nape patches are distinctive.
Juveniles are dappled brown with more white plumage than shows on adults.
Distribution
Generally uncommon over most of range. Africa: west and central Ethiopia and has been recorded in Somalia.
South east Asia: Indochina, Burma, Thailand, Malaysia, Malay Peninsula, Brunei, Singapore, Borneo, Indonesia, Greater Sundas, Sumatra, Sulawesi
Australasia: New Guinea, Melanesia
Taxonomy
Subspecies
There are 3 subspecies[1]:
In Africa subspecies anderssoni breeds from Senegal and Gambia east to southern Uganda and southern Kenya and south to northern Namibia in the west and Natal in the east.
In southern Asia occurs as subspecies alcinus from southern Thailand and Myanmar south to Malaysia, in Sumatra, Borneo, Sulawesi, and as subspecies papuanus in south-eastern New Guinea.
Resident.
Habitat
Tropical forest and woodlands with adjacent open areas, sometimes occurs close to towns.
Behaviour
Crepuscular and nocturnal, roosting in thick foliage during the day.
Diet
The diet includes mainly bats, also small birds and insects. The large gape allows them to swallow small bats whole.
Breeding
The nest is built from sticks and the eggs are incubated by the female for about 28 days. Both parents feed the young which fledge 30-45 days later.
References
Clements, JF. 2011. The Clements Checklist of Birds of the World. 6th ed., with updates to August 2011. Ithaca: Cornell Univ. Press. ISBN 978-0801445019. Spreadsheet available at http://www.birds.cornell.edu/clementschecklist/downloadable-clements-checklist
Avibase
Wikipedia
BF Member observations
Recommended Citation
External Links