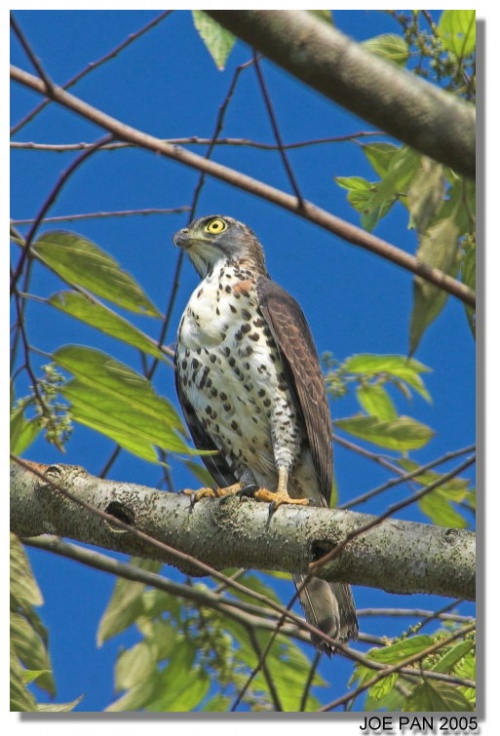 Accipiter virgatus
Identification
24–36 cm (9½-14¼ in)

Ashy blue-grey upperparts
White below crossed barred with rusty brown
Dark vertical throat stripe
Short broad wings
Long tail

Female is larger and has browner upperparts
Juvenile: dark brown upperparts
White underparts, barred brown
Barred tail
Distribution
South Asia from Pakistan and India to south China and Indonesia.
Taxonomy
Subspecies
There are 11 subspecies[1]:
Philippines (Cebu, Bohol, Leyte, Samar, Siquijor and Mindanao)
Habitat
Dense montane forests; in winter open woodland (preferably with large trees) including groves, savanna and cultivated areas.
Behaviour
Breeding
They nest in trees, building a new nest each year. The clutch consists of 2-5 eggs.
Diet
Their diet consists mostly of birds with the addition of dragonflies, lizards and mammals.
References
Clements, J. F., T. S. Schulenberg, M. J. Iliff, D. Roberson, T. A. Fredericks, B. L. Sullivan, and C. L. Wood. 2016. The eBird/Clements checklist of birds of the world: v2016, with updates to August 2016. Downloaded from http://www.birds.cornell.edu/clementschecklist/download/
AvianWeb
BF Member observations
Handbook of the Birds of the World Alive (retrieved September 2016)
Recommended Citation
External Links