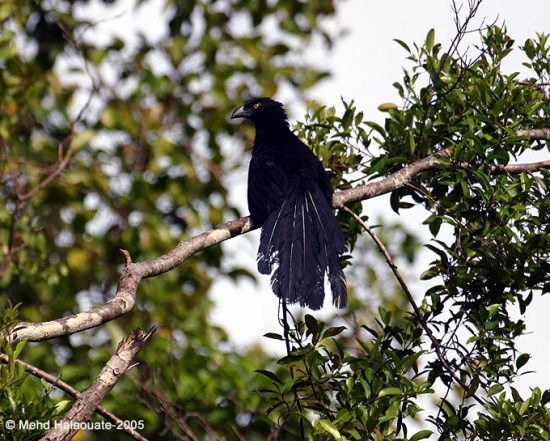 Centropus chalybeus
Identification
44-46cm.
Black plumage
Glossed purple upperparts
Spiny feathers on foreparts
Yellow eye
Black bill
Sexes similar. Juveniles are washed rufous and unbarred.
Similar species
Bill straighter than in Greater Black Coucal.
Distribution
Endemic to Biak Island, (Geelvink Bay off northern New Guinea) Indonesia.
A poorly known species.
Taxonomy
This is a monotypic species.
Forms a superspecies with Pheasant Coucal, Kai Coucal and Greater Black Coucal.
Habitat
Moist lowland forests. Also in second growth.
Behaviour
A terrestrial species. Flies awkwardly.
Diet
No information.
Breeding
No information.
Movements
A resident species.
References
Clements, J. F., T. S. Schulenberg, M. J. Iliff, B.L. Sullivan, C. L. Wood, and D. Roberson. 2013. The eBird/Clements checklist of birds of the world: Version 6.8., with updates to August 2013. Downloaded from http://www.birds.cornell.edu/clementschecklist/download/
Del Hoyo, J, A Elliot, and J Sargatal, eds. 1997. Handbook of the Birds of the World. Volume 4: Sandgrouse to Cuckoos. Barcelona: Lynx Edicions. ISBN 978-8487334221
Recommended Citation
External Links