Sterna acuticauda
Identification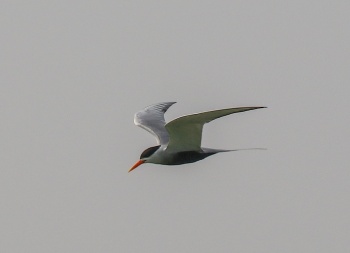 32–35 cm (12½-13¾ in)
Adult
Breeding
Orange bill,
Black cap and nape
Dark grey breast
Blackish belly and vent
Non-breeding
Whitish belly, no tail streamers
Dark tip to bill
Distribution
Asia: found in Pakistan, Nepal and India to south-western China, Myanmar and South East Asia.
Taxonomy
This is a monotypic species[1].
Subspecies melanogaster is generally considered to be invalid[2].
Habitat
Near large rivers; breeds on sandspits, islands and marshes, up to 730 m.
Behaviour
Diet
Their diet consists of small fish and insects. They hawk for insects over both land and water and plunge-dive for fish.
References
Clements, J. F., T. S. Schulenberg, M. J. Iliff, D. Roberson, T. A. Fredericks, B. L. Sullivan, and C. L. Wood. 2017. The eBird/Clements checklist of birds of the world: v2017, with updates to August 2017. Downloaded from http://www.birds.cornell.edu/clementschecklist/download/
Avibase
BirdLife International
Handbook of the Birds of the World Alive (retrieved October 2015)
Recommended Citation
External Links