Ploceus melanogaster
Identification
14 cm (5½ in); 20-28 g (0.75-1 oz)
Male of the nominate race melanogaster:
Most of the head is golden-yellow, with cheek and ear coverts an orange-brown
Lores black with a spectacle line extending behind the eye, ending in a point on the ear coverts
Throat and chin black, with a narrow yellow band below across the upper breast, which meets the yellow of the head
Iris red to red-brown
Bill and legs black
The rest of the plumage is black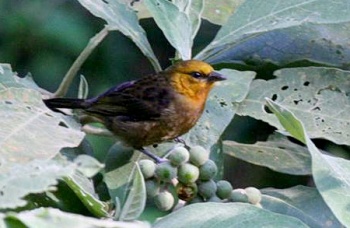 Female:
Similar to male, but hindcrown is black
Ear coverts to chin and throat an orange-brown
Iris red-brown
Juvenile:
Dark olive-brown above, throat and chin buff, underparts dull buffy-green, iris brown, bill brown, legs grey

Male of the race stephanophorus:
Similar to P.m. melanogaster, but rear half of crown is black
No yellow breastband
Female:
Crown like male
Chin and throat have strong cinnamon tinge
Distribution
Africa:
Western Africa: Nigeria, Cameroon, Central African Republic, Equatorial Guinea, Democratic Republic of Congo
Eastern Africa: South Sudan, Kenya, Uganda, Rwanda, Burundi, Tanzania
African Islands: Gulf of Guinea Islands, Bioko (Fernando Po)
Taxonomy
Subspecies
There are 2 subspecies[1]:
Habitat
Montane forests anywhere between 550 m to 2450 m, but mostly 1000-2200 m in Cameroon and 1500-3000 m in East Africa.
Behaviour
Diet
Their diet consists mostly of insects such as ants, termites and beetles, and sometimes fruits and seeds. Foraging takes place in undergrowth and the middle levels of thick secondary bush. Usually done singly or in pairs.
Breeding
Breeding is monogamous and solitary, not colonially. Both adults build the retort-shaped nest which is woven from tough grass stems, lined with finer material and suspended about 3-6 m above the ground or over a forest stream. The opening is below and has a ledge to prevent the eggs from falling out, but there is no tunnel. The clutch of two eggs, white with very fine, even, pinkish-brown spots, are incubated by the female, but both parents feed the young. Breeding times vary with the location of the species, e.g. December in Nigeria, January-April, June and September in Kenya and November-March and August in Sudan.
Vocalisation
The song consists of clear ringing notes, then a drawn out snoring sound: "da du da du dzirr", somewhat similar to a sunbird (in the Nectariniidae family). The call is a rapid, harsh "zhink zhink zhink".
References
Clements, J. F., T. S. Schulenberg, M. J. Iliff, D. Roberson, T. A. Fredericks, B. L. Sullivan, and C. L. Wood. 2017. The eBird/Clements checklist of birds of the world: v2017, with updates to August 2017. Downloaded from http://www.birds.cornell.edu/clementschecklist/download/
Avibase
BF Member observations
Handbook of the Birds of the World Alive (retrieved November 2015)
Recommended Citation
External Links