Alternative names: Black-billed Blue-spotted Wood Dove; Abyssinian Wood Dove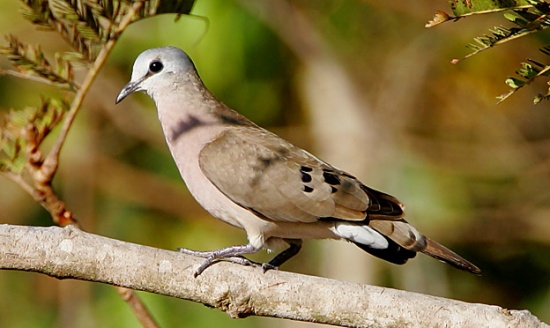 Turtur abyssinicus
Identification
20 cm (7¾ in)
Whitish forehead
Bluish grey crown and nape
Pale grey brown hindneck, mantle, scapulars wing shields and upper back
Wing shields have dark metallic blue patches
Back and mantle is separated from the paler rump and uppertail coverts by two blackish bands enclosing a pale whitish fawn area
Grey pink breast, chest, belly and flanks
Longest undertail coverts black, others are white
Dark brown eyes
Black stripe from front of eye to bill

Sexes similar
Juvenile - barred buff/rust plumage
Similar Species
Distinguished from the similar Blue-spotted Wood-Dove by its uniform black bill with a black loral line, grey body plumage with a faint blue head-cap and a few large black (not blue) spots on the wing coverts.
Distribution
Southern Mauritania and Senegambia east to Ghana, Togo, Benin and Nigeria, northern Cameroon, northern Central African Republic to Ethiopia, Eritrea, northern Uganda and north-east Kenya.
Taxonomy
This is a monotypic species.[1]
Habitat
Arid, semi-arid and open savanna woodlands and scrub close to wells, ponds and marshes.
Behaviour
Breeding
The two dark cream buff to brownish cream eggs are incubated for 13-15 days; the young fledging 15 to 17 days later.
Diet
The diet includes grass and other small seeds.
References
Clements, J. F., T. S. Schulenberg, M. J. Iliff, D. Roberson, T. A. Fredericks, B. L. Sullivan, and C. L. Wood. 2016. The eBird/Clements checklist of birds of the world: v2016, with updates to August 2016. Downloaded from http://www.birds.cornell.edu/clementschecklist/download/
International Dove Society
Recommended Citation
External Links