Coturnix coromandelica
Identification
16–18 cm (6¼-7 in)
Male
Black and white head pattern
Black breast-patch
Similar Species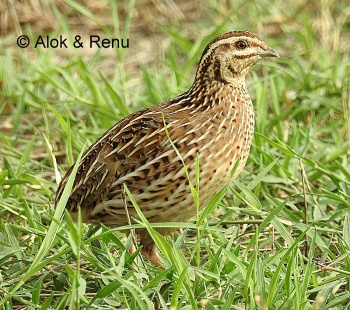 The female from female is very similar to both Common Quail and Japanese Quail but the breast spots are more delicate.
Distribution
South Asia: found in Pakistan, India, Eastern and Western Himalayas, Bangladesh, Andaman Islands
Southeast Asia: Indochina, Myanmar, Vietnam, Cambodia and Thailand
Taxonomy
This is a monotypic species[1].
Habitat
Mostly open land, grassland, scrub, agrarian wilderness, tea plantations.
Behaviour
Breeding
These birds nest from March to October. The clutch consists of 6-8 eggs which are laid in a ground scrape. They are incubated by the female alone. The young are nidifugous, leaving the nest and feeding themselves almost immediately after hatching.
Vocalisation
Call: a musical, metallic chrink-chrink.

Listen in an external program Listen in an external program
Recording by Alok Tewari
Two individuals, one near and other far, calling at day-break; they come to the area during summer/monsoon.
Background calls by Plain Prinia and Zitting Cisticola and a passing airplane, are also heard.
Gurgaon Rural, Haryana, India. July-2018.
References
Clements, J. F., T. S. Schulenberg, M. J. Iliff, D. Roberson, T. A. Fredericks, B. L. Sullivan, and C. L. Wood. 2017. The eBird/Clements checklist of birds of the world: v2017, with updates to August 2017. Downloaded from http://www.birds.cornell.edu/clementschecklist/download/
Avibase
Handbook of the Birds of the World Alive (retrieved July 2016)
Wikipedia
Recommended Citation
External Links