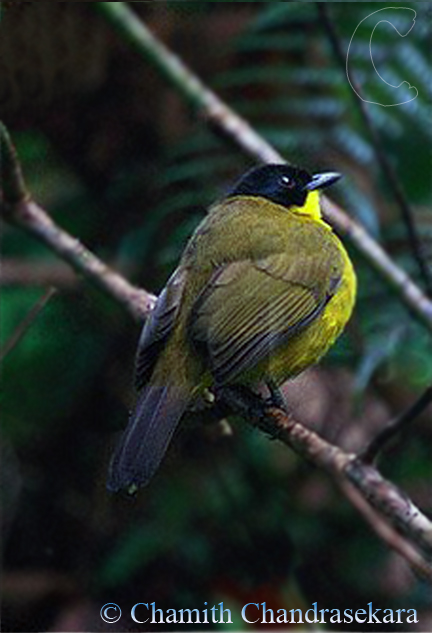 Rubigula melanicterus
Pycnonotus melanicterus
Identification
19cm

Yellow throat
Glossy black head
Orange-yellow breast
Bright olive tail, rounded, with broad whitish corner-tips
Sexes similar
Distribution
Endemic to Sri Lanka
Very common.
Taxonomy
This is a monotypic species.
It was formerly included in Black-crested Bulbul, Pycnonotus melanicterus as nominate subspecies. After the split the formerly nominate subspecies was renamed Black-capped Bulbul, while the remaining Black-crested Bulbul changed its scientific name to Pycnonotus flaviventris.
Habitat
Forest and dense scrub. Frequents the lower and middle storey.
Behaviour
Often seen in small parties in fruiting trees and shrubs with other bulbuls.
Vocalisation
Usually delivers its slurred song from low branches or telephone wires in bamboo groves and at hill stations.
Breeding
It builds its nest in a bush; the clutch consisting of 2-4 eggs.
Diet
The diet includes fruit and insects.
References
Clements, J. F., T. S. Schulenberg, M. J. Iliff, S. M. Billerman, T. A. Fredericks, B. L. Sullivan, and C. L. Wood. 2019. The eBird/Clements Checklist of Birds of the World: v2019. Downloaded from http://www.birds.cornell.edu/clementschecklist/download/
Rasmussen, PC and JC Anderton. 2005. Birds of South Asia: The Ripley Guide. Barcelona: Lynx Edicions. ISBN 978-8487334672
Recommended Citation
External Links