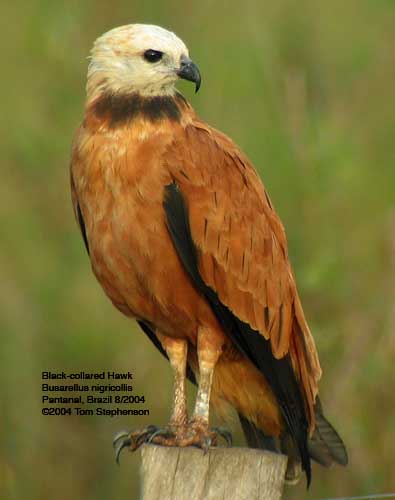 Busarellus nigricollis
Identification
White head tinged with buff, black shaft streaks on crown
Bright cinnamon rufous body, including mantle (paler on chest)
Black crescent on upper breast
Back has scattered black shaft stripes
Black flight and tail feathers
Base of tail barred with rufous
Bright reddish brown eyes
Black cere and bill
Bluish white legs

Immature - similar, blotched with black, including on the crown. Rufous barring on tail is more extensive; pale area on the chest is also more clearly marked. Barring on upper surface of the wings. Brown eyes
Distribution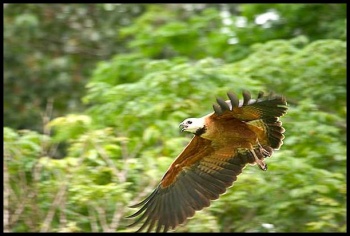 Central and South America
Central America: Mexico, Guatemala Belize, El Salvador, Honduras, Nicaragua, Costa Rica, Panama, Trinidad, Tobago
South America: Colombia, Venezuela, Guyana, Suriname, French Guiana, Ecuador, Peru, Bolivia, Brazil, Paraguay, Argentina
Taxonomy
There are 2 subspecies:
Habitat
Near water in forested areas as well as palm swamps; flooded rice fields, mangroves. Occasionally,also in more open areas.
Behaviour
Breeding
A large tree is used for nesting, usually associated with water. The nest is lined with leaves. The clutch consists of 3-5 dull white eggs, spotted and speckled pale yellow-brown or red-brown.
Diet
The diet includes fish, water bugs and occasionally lizards, snails and rodents.
References
Clements, JF. 2009. The Clements Checklist of Birds of the World. 6th ed., with updates to December 2009. Ithaca: Cornell Univ. Press. ISBN 978-0801445019.
Avibase
Wikipedia
Recommended Citation
External Links