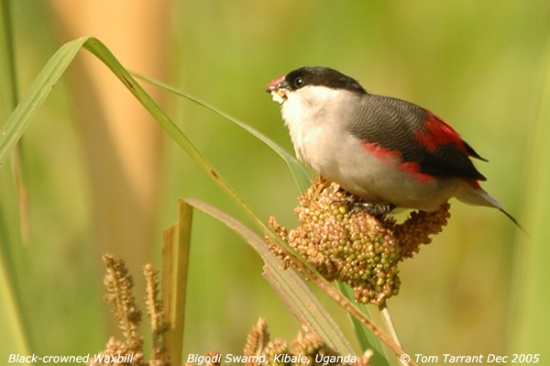 Identification
11-12cm
Male
Black lores and forehead to crown and nape
Ash-grey back and wing coverts, finely barred dark grey or black
Deep crimson rump and upper tail coverts
Black tail rounded at the tip
White face
Greyish tinge on sides of breast, lower breast and flanks
Undertail coverts tinged grey
Small crimson patch on lower flanks
Bill patterned in light red and black on both mandibles

Female - similar to male
Slightly greyer brown mantle with less distinct barring
White parts are usually more suffused with grey particularly in vent area.
Distribution
Africa
Western Africa: Guinea, Burkina Faso, Nigeria, Cameroon, Central African Republic, Equatorial Guinea, Gabon, Congo
Eastern Africa: Sudan, Kenya, Uganda, Rwanda, Burundi, Tanzania
African Islands: Gulf of Guinea Islands, Bioko (Fernando Po) Western-central Africa.
Taxonomy
There are 3 subspecies:
Habitat
Jungle edges, papyrus swamps and gardens.
Behaviour
Diet
The diet includes grass seeds, termites and buds.
Breeding
The nest is usually placed in a bush or tree, between one and six metres high. There may be several nests in the same tree. It has a short entrance tunnel; it is lined with feathers and other fine material. The clutch of 4-6 eggs is incubated by both adults for up to 13 days. The young fledge between 20 and 22 days.
References
Clements, JF. 2009. The Clements Checklist of Birds of the World. 6th ed., with updates to December 2009. Ithaca: Cornell Univ. Press. ISBN 978-0801445019.
Avibase
BF Member observations
Waxbill Finch Society
Recommended Citation
External Links