Alternative name: Red-bellied Paradise-flycatcher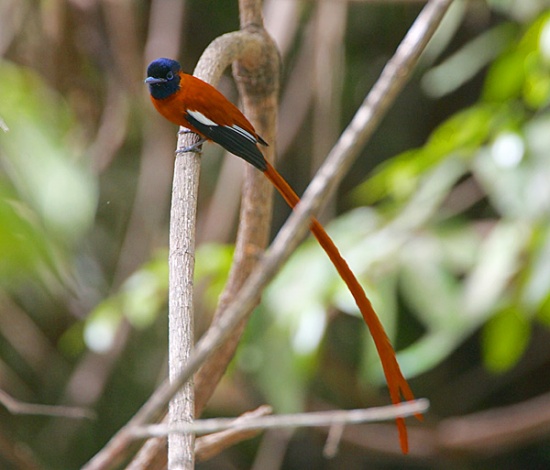 Terpsiphone rufiventer
Includes Annobon Paradise-Flycatcher
Identification
17cm
Long tail streamers (nearly as long as the bird itself)
Male: black head, chestnut plumage, black wingbar
Female: drabber than the male and lacks the tail streamers
Juveniles - plain brown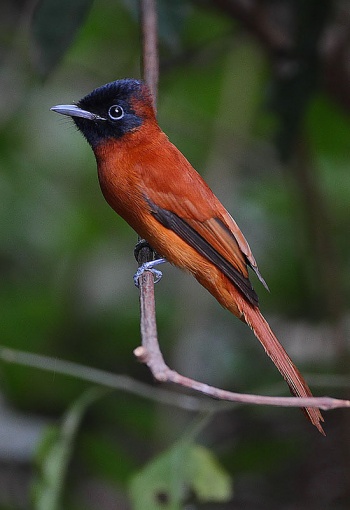 Black-headed Paradise-Flycatcher (Terpsiphone rufiventer) is closely related to African Paradise-Flycatcher (Terpsiphone viridis), and hybrids occur with the underparts a mixture of black and red.
Distribution
West and central and east Africa, south of the Sahara. Western Africa: Senegambia, Senegal, The Gambia, Guinea-Bissau, Guinea, Sierra Leone, Liberia, Ivory Coast, Burkina Faso, Ghana, Togo, Benin, Nigeria, Cameroon, Central African Republic, Equatorial Guinea, Gabon, Congo, Democratic Republic of Congo, Angola
Eastern Africa: Kenya, Uganda, Tanzania, Zambia
African Islands: Gulf of Guinea Islands, Bioko (Fernando Po), Annobon, São Tomé and Príncipe
Taxonomy
Subspecies
There are 11 subspecies[1]:
Smithii from Annabon, an island in the Gulf of Guinea, is sometimes split as full species, Annobon Paradise-Flycatcher.
Habitat
Moist savannah woodland.
Behaviour
Breeding
Two eggs are laid in a tiny cup nest in a tree.
Diet
The diet includes insects.
Vocalisation
Call: a sharp zweet.
References
Clements, JF. 2009. The Clements Checklist of Birds of the World. 6th ed., with updates to December 2009. Ithaca: Cornell Univ. Press. ISBN 978-0801445019.
Avibase
Wikipedia
BF Member observations
Recommended Citation
External Links