Alternative name: Yellow-backed Weaver
Identification
14 cm (5½ in)
Black head
Yellowish-green upperparts
Yellower rump
Yellow fringed black primaries
Notice that females do not necessarily have dark eyes.
Distribution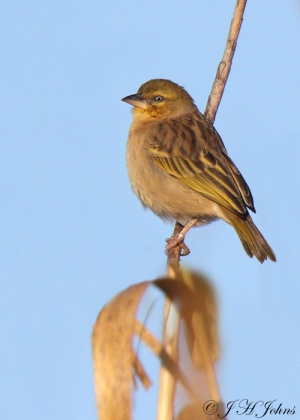 Africa
Western Africa: Mauritania, Senegal, The Gambia, Guinea-Bissau, Guinea, Mali, Burkina Faso, Ghana, Togo, Benin, Nigeria, Niger, Chad, Cameroon, Central African Republic, Equatorial Guinea, Gabon, Congo, Democratic Republic of Congo
Eastern Africa: Sudan, South Sudan, Eritrea, Ethiopia, Kenya, Uganda, Rwanda, Burundi, Tanzania, Zambia
African Islands: Gulf of Guinea Islands, Sao Tome
Taxonomy
Subspecies
There are 4 subspecies[1]:
An addition al subspecies fischeri is not recognised by all authorities.[2]
Habitat
Moist shrubland and swamps, open bush and wooded areas.
Behaviour
Diet
Their diet consists of seeds and insects, with insects generally being used to feed the young.
References
Clements, J. F., T. S. Schulenberg, M. J. Iliff, D. Roberson, T. A. Fredericks, B. L. Sullivan, and C. L. Wood. 2017. The eBird/Clements checklist of birds of the world: v2017, with updates to August 2017. Downloaded from http://www.birds.cornell.edu/clementschecklist/download/
Avibase
Handbook of the Birds of the World Alive (retrieved February 2017)
Recommended Citation
External Links