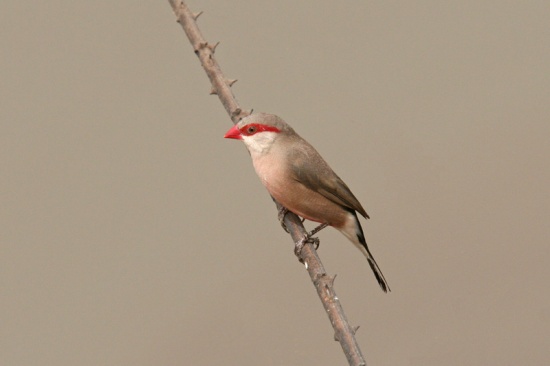 Estrilda troglodytes
Identification
Grey plumage
Pinkish-brown tint on head, wings and body
Black rump
Tail: black with white edge; underside off-white
Pink patch near the vent
Red eye stripe and bill.
Juveniles - dark beak and light brown body, hint of pink around vent, no cross barring or red eye stripe.
Distribution
It has an estimated global extent of occurrence of 2,000,000 km² in Africa between 16°N and the equator.
Africa: It is found in Benin, Burkina Faso, Cameroon, Central African Republic, Chad, The Democratic Republic of the Congo, Côte d'Ivoire, Eritrea, Ethiopia, Gambia, Ghana, Guinea, Kenya, Liberia, Mali, Mauritania, Niger, Nigeria, Senegal, Sudan, South Sudan, Togo, Uganda.
Established outside of africa as an introduced species:
Europe: Portugal
Caribbean: Puerto Rico, Virgin Islands (possibly extinct), Guadeloupe

Taxonomy
This is a monotypic species[1].
Habitat
Dry steppes, brush alongside rivers, marshes, open country with thorn scrub, and bushes of open grasslands.
Status
Evaluated as Least Concern.
Behaviour
Three to six eggs are laid and are incubated for 11-12 days; the young fledge after 21 days.
References
Clements, JF. 2009. The Clements Checklist of Birds of the World. 6th ed., with updates to December 2009. Ithaca: Cornell Univ. Press. ISBN 978-0801445019.
Finch Information Center
Recommended Citation
External Links