Spizaetus tyrannus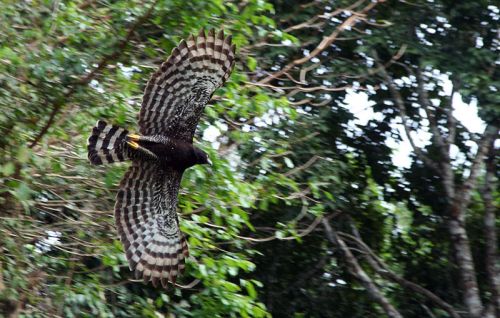 Identification
In flight, the impression is dominated by the strong barring on wings and tail. The flight feathers near the body are shorter than those further out on the wing, making the jizz somethat butterfly-like.
Distribution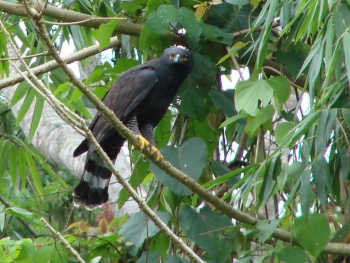 From Mexico through Central America to Trinidad, Brazil and Argentina. Avoids larger mountains and in South America mostly east of the Andes.
Taxonomy
Subspecies
Two subspecies are recognized[1]:
Habitat
Disturbed secondary humid forest at ca. 622 m (2,042 ft) elevation.
Behaviour
Mostly seen when soaring, often high above the canopy; sometimes gives its characteristic call when soaring.
Diet
Hunts from perches, from which it catches mammals and birds.
Vocalisation
Recording by Andrew Whitehouse
References
Clements, JF. 2011. The Clements Checklist of Birds of the World. 6th ed., with updates to August 2011. Ithaca: Cornell Univ. Press. ISBN 978-0801445019. Spreadsheet available at http://www.birds.cornell.edu/clementschecklist/downloadable-clements-checklist
BF Member observations
Recommended Citation
External Links