Cygnus atratus
Identification
110-142cm (43¼-56 in)
Adult

Mainly black plumage
White flight feathers of the wing edges
Bright red bill with a pale bar and tip
Greyish black legs and feet

Juvenile - Greyish-brown with pale-edged feathers.
Subadult - Similar to adult but with black tips to the white flight feathers.
Distribution
Southeast and southwest regions of Australia. Has also been introduced to New Zealand, Florida and the Netherlands.
Taxonomy
This is a monotypic species[1].
Habitat
Any wet area, fresh water and salt water. Swamps and rivers.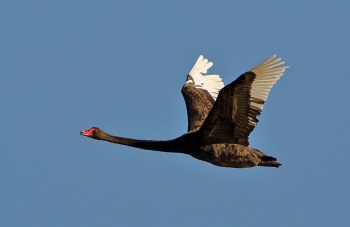 Behaviour
Diet
They have a vegetarian diet, consisting of the leaves and shoots of a variety of aquatic plants.
Breeding
Both sexes build the large nest which is a 1meter high mound of reeds, grasses and weeds which may be up to 1.5 metres diameter, in shallow water or on islands. The clutch of 4-8 greenish-white eggs are incubated for about 35-40 days. The young fledge about 6 months later.
References
Clements, J. F., T. S. Schulenberg, M. J. Iliff, D. Roberson, T. A. Fredericks, B. L. Sullivan, and C. L. Wood. 2018. The eBird/Clements checklist of birds of the world: v2018. Downloaded from http://www.birds.cornell.edu/clementschecklist/download/
Wikipedia contributors. (2018, October 15). Black swan. In Wikipedia, The Free Encyclopedia. Retrieved 20:20, November 3, 2018, from https://en.wikipedia.org/w/index.php?title=Black_swan&oldid=864106999
Carboneras, C. & Kirwan, G.M. (2017). Black Swan (Cygnus atratus). In: del Hoyo, J., Elliott, A., Sargatal, J., Christie, D.A. & de Juana, E. (eds.). Handbook of the Birds of the World Alive. Lynx Edicions, Barcelona. (retrieved from http://www.hbw.com/node/52804 on 10 March 2017).
Marchant, S. & Higgins, P.J. (coordinating editors) 1990. Handbook of Australian, New Zealand & Antarctic Birds. Volume 1, Ratites to ducks. Melbourne, Oxford University Press.
Williams, M.J. 2013. Black swan. In Miskelly, C.M. (ed.) New Zealand Birds Online. http://www.nzbirdsonline.org.nz
Recommended Citation
External Links