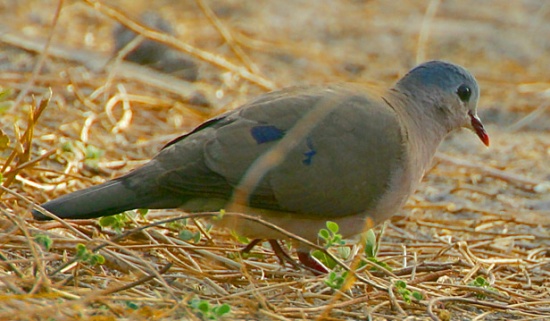 Turtur afer
Identification
18-21cm
Distinguished from the similar Black-billed Wood-Dove by its prominent dark-blue wing spots, more pronounced bluish cap, bicoloured dark-red bill with a pale tip, more earthy-brown body colour and lack of a loral line.
Distribution
Africa south of the Sahara:
Western Africa: Senegambia, Senegal, The Gambia, Guinea-Bissau, Guinea, Mali, Sierra Leone, Liberia, Ivory Coast, Burkina Faso, Ghana, Togo, Benin, Nigeria, Niger, Chad, Cameroon, Central African Republic, Equatorial Guinea, Gabon, Congo, Angola
Eastern Africa: Sudan, Eritrea, Ethiopia, Kenya, Uganda, Rwanda, Burundi, Tanzania, Zambia, Mozambique, Malawi
Southern Africa: Zimbabwe, South Africa
African Islands: Gulf of Guinea Islands, Bioko (Fernando Po)
Taxonomy
This is a monotypic species[1].
Subspecies liberiensis is generally considered invalid[2]
Habitat
Moist broadleaved woodland along river courses.
Behaviour
Vocalisation
Call: du-du-du-du.
References
Clements, J. F., T. S. Schulenberg, M. J. Iliff, B.L. Sullivan, C. L. Wood, and D. Roberson. 2013. The eBird/Clements checklist of birds of the world: Version 6.8., with updates to August 2013. Downloaded from http://www.birds.cornell.edu/clementschecklist/download/
Avibase
Recommended Citation
External Links