Identification
40 cm
Light iris
Grey legs and feet
Head: creamy-white with brown streaks
Bill: dark above and yellowy below
Brown back
Silver grey underparts
White throat
Blue rump
Mainly blue wings

Male - blue tail
Female - tail barred rufous and black
Similar Species
Can be told from the Laughing Kookaburra by the creamy-white head, blue rump and light eye, and from the male, by the blue tail (both sexes have brown tails in Laughing Kookaburra).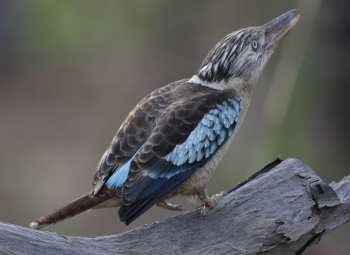 Distribution
Southern New Guinea and northern Australia.
Taxonomy
Subspecies[1]
There are 4 subspecies:
Habitat
Eucalypt woods and swamps.
Behaviour
Diet
The diet includes snakes, lizards, large insects, small mammals and small birds.
Breeding
They nest in tree hollow or tree termite nests. Both parents incubate the eggs and care for the young.
References
Clements, J. F., T. S. Schulenberg, M. J. Iliff, D. Roberson, T. A. Fredericks, B. L. Sullivan, and C. L. Wood. 2014. The eBird/Clements checklist of birds of the world: Version 6.9., with updates to August 2014. Downloaded from http://www.birds.cornell.edu/clementschecklist/download/
Avibase
Wikipedia
Birdwatching Australia
Recommended Citation
External Links