Anthropoides paradiseus
Grus paradisea
Identification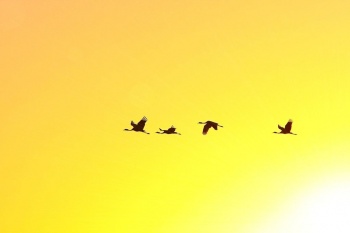 110–120 cm (43¼-47¼ in) mass 4.2-5.8 kg, males larger than females
Plumage is blue-grey except for white crown and lores
Similar Species
The Wattled Crane is similar, but has a grey crown and white neck.
Distribution
Southern Africa: Widespread in South Africa. There is an isolated breeding population in the Etosha National Park, Namibia. Marginal or vagrant in Lesotho, Swaziland, Botswana and Zimbabwe.
Taxonomy
Hybrids of the Blue Crane and the Wattled Crane are known from the wild.
Habitat
Grassland, short scrubland, wetlands, cultivated pastures and crop lands.
Behaviour
Diet
Food includes invertebrates such as grasshoppers and worms, frogs, reptiles, fish, leaves and seeds of sedges and grasses; roots and tubers..
Breeding
The nest is a thinly lined scrape on dry ground or pad of vegetative material on marshy ground. One or two eggs are laid October to February.
Gallery
Click on photo for larger image
References
Clements, J. F., T. S. Schulenberg, M. J. Iliff, D. Roberson, T. A. Fredericks, B. L. Sullivan, and C. L. Wood. 2018. The eBird/Clements checklist of birds of the world: v2018. Downloaded from http://www.birds.cornell.edu/clementschecklist/download/
Hockey, PAR, WRJ Dean, and PG Ryan, eds. 2005. Roberts' Birds of Southern Africa. 7th ed. Cape Town: John Voelcker Bird Book Fund. ISBN 978-0620340533
Claassens A & Marais E 2008. Species information page - Blue Crane http://www.birdlife.org.za/fieldguide. Downloaded 25 January 2008.
Handbook of the Birds of the World Alive (retrieved Oct 2017)
Recommended Citation
External Links