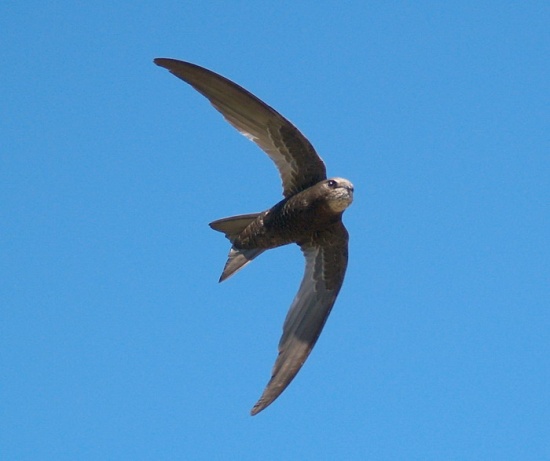 Apus bradfieldi
Identification
18 cm
Light brown upperparts
Black bill
Brown eyes
Black legs and feet
Distribution
South-western Africa. Found in Angola, Namibia and South Africa.
Common and not globally threatened.
Taxonomy
Forms a superspecies with Forbes-Watson's Swift, African Swift, Pallid Swift and Fernando Po Swift.
Subspecies
Two subspecies recognized[1]:
Habitat
Rocky hills, gorges, cliffs, dry open savannah and deserts.
Behaviour
Diet
They catch insects aerially, including bees.
Breeding
They nest in groups with up to 30 birds per colony. The nest is a thick half-cup built from grass, leaves, straw, twigs and feathers. The 2 eggs are laid between August and May.
In Culture
Named after Rupert D. Bradfield (1882-1949) a farmer and naturalist who lived in Namibia.
References
Clements, JF. 2011. The Clements Checklist of Birds of the World. 6th ed., with updates to August 2011. Ithaca: Cornell Univ. Press. ISBN 978-0801445019. Spreadsheet available at http://www.birds.cornell.edu/clementschecklist/downloadable-clements-checklist
Namibian.org
Recommended Citation
External Links